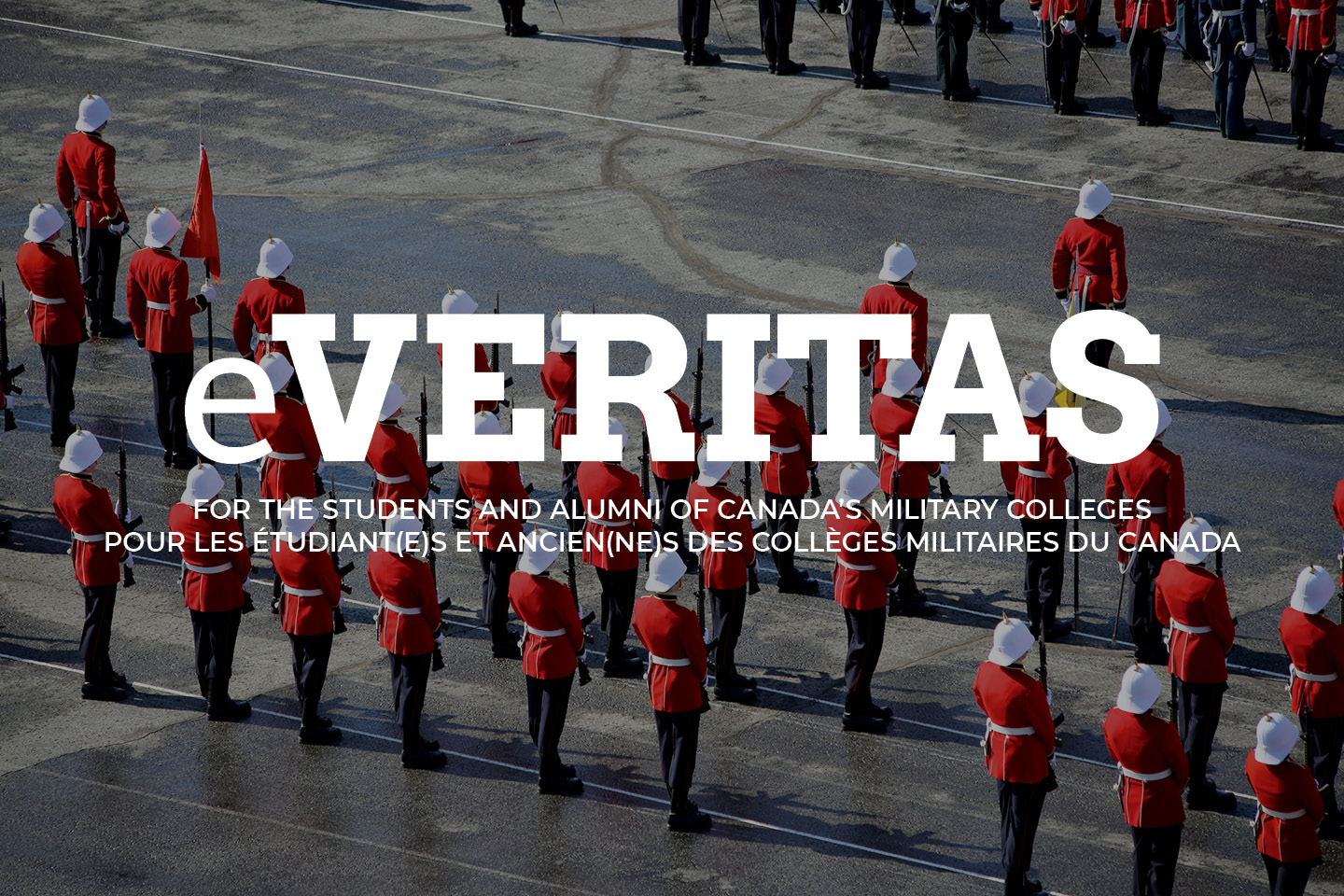 Photos by: John Sheahan
(W) Volleyball – Although the Paladins lost their weekend match-up against Brock they are still well positioned for a play-off berth. With five matches and a favourable schedule ahead of them they currently sit on the eighth and final play-off spot with a 6 and 7 record. They play at U of T this coming Saturday, 28 Jan  at 3PM.
Recent Varsity results:
Hockey:
Basketball (M) 
Basketball (W)
Volleyball (M)
Volleyball (W)
 _______________________________________________
RMC Varsity Athlete Bio – 26209 OCdt (II) Nicholas Lightbody

OCdt (II) Nicholas Lightbody, a Varsity swimmer from Victoria, British Columbia, is a second year Aeronautical Engineering student in the Combat Engineer trade.
Hometown: Victoria, B.C.
Family: I have a younger brother and sister
Degree: Aeronautical Engineering
Trade: Combat Engineer
Swimming specialty: 100 m and 200 m Freestyle events
One special memory you have from swimming is: I had a swim off race at Provincials where we tied for the final 8th place in the 50 m Freestyle and I had to swim again to break the tie. With the support of the whole crowd I won by a narrow 0.02 seconds.
My most memorable competition was: The 2011 Military World Games in Brazil.
One thing people don't know about me is: I speak Spanish fluently.
Biggest Fear: My biggest fear is falling through ice and being stuck underneath it.
Hobbies: Snowboarding, running, waterpolo, soccer and hockey.
Future Aspirations: I plan to graduate and then I hope to be a SAR TECH rescue swimmer.
 _______________________________________________
MEMORIES (SOMEWHAT FADED) OF FOOTBALL AT RMC
Submitted by 4588 Kompf, R.L.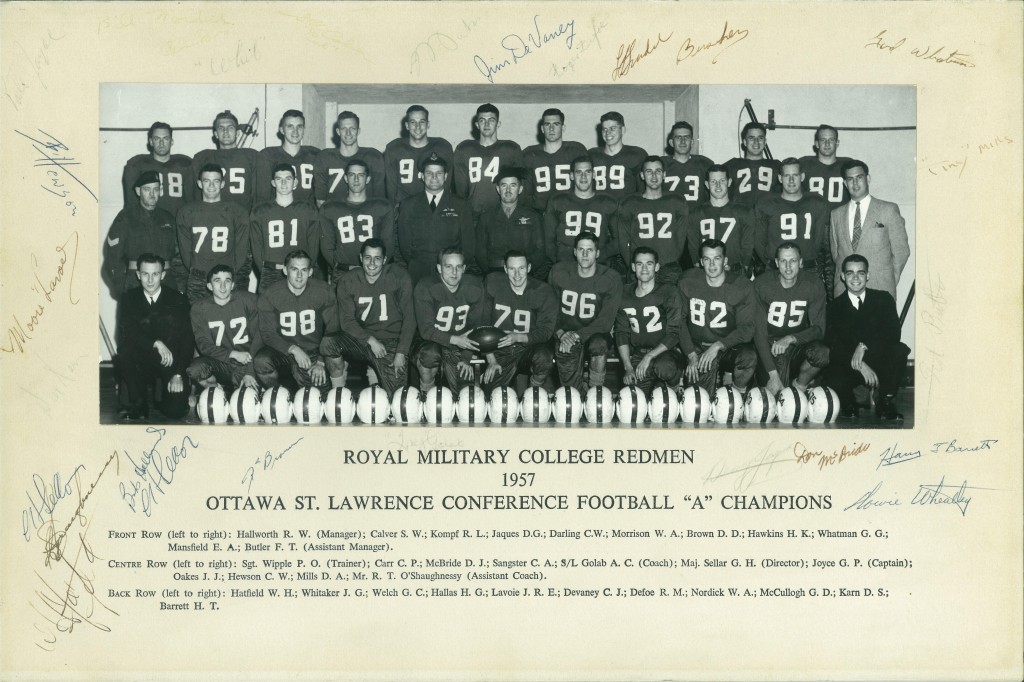 This is my 'best shot'. Return fire is encouraged!
In 1955 RMC had two teams – RMC I and RMC II.
On a bus trip to Lennoxville to play Bishop's, I observed that several miles of the highway SOUTH of Montreal were graveled rather than paved. Explanation given: the graveled stretch was in a Riding that had not voted for the Party of Duplessis. Whoever said football was not educational!!?
In various years our competition included U of Ottawa, Carleton, both in Ottawa;Concordia, Montreal; Bishop's,Lennoxville; McMaster, Hamilton; Ontario Agricultural College, Guelph and "??"
This may be a joined memory. We were down 19 – 6 at half time against (?) U of Ottawa. In the third quarter (or thereabouts) Pete Joyce suddenly regained consciousness. He had been hid hard some time in the first half and had been playing on 'remote'. He had scored two touchdowns and we won 27 – 19.
I played in two games with a score of 55 – 0. The game we won against Concordia was much more enjoyable than the one we lost to McMaster.
My task in both games was calling defensive signals. McMaster, quarter-backed by Russ Jackson, was totally baffling. Maybe they were playing from a 'Single Wing' rather than the conventional 'T' or 'Split T'. No help came from the coaches. Jackson would drop back 20 or more yards scattering the pursuit who were mindful of covering the run as well as the pass. Suddenly, like a trebuchet, this ARM would appear and sling the ball 65 or more yards with pin point accuracy. Woe and Misery!
At half time, hoping for some guidance in stemming the deluge of points against, the dressing room provided not solace, not support and not encouragement. Where was the Coach? Tony Golab was not in our dressing room. He was in McMaster's – scouting Russ Jackson for the Ottawa Rough Riders! In retrospect, that was probably the most useful contribution made that day for the future of Canadian Football.
TO NOTE:
The following is from Wikipedia.
Anthony Charles (Tony) Golab, CM (born January 17, 1919) was a retired Canadian football player.
Born in Windsor, Ontario, he played with the Ottawa Rough Riders from 1939 to 1950. He was part of the 1941 and 1948 Grey Cup finalists teams and was part of the winning 1940 Grey Cup champions.
In 1985, he was made a Member of the Order of Canada. In 1964, he was elected to the Canadian Football Hall of Fame. In 1975, he was inducted into Canada's Sports Hall of Fame.
As coach:
1952-1953
1954-1957 Hamilton Panthers
Royal Military College of Canada
As player:
1938
1939-1941
1942
1945-1950 Sarnia Imperials
Ottawa Rough Riders
Ottawa Uplands (RCAF)
Ottawa Rough Riders
Career highlights and awards
CFL All-Star: nine times
Awards: 1941 Jeff Russel Memorial Trophy
1941 Lionel Conacher Award
Canadian Football Hall of Fame, 1964
Russell Stanley "Russ" Jackson, OC(born July 28, 1936 in Hamilton, Ontario)
After a stellar college career as both a basketball and football player, Jackson graduated from McMaster University in 1958 with a Bachelor of Science degree in Mathematics. He was the McMaster nominee for a Rhodes Scholarship, but did not pursue an interview for the scholarship, deciding instead to sign with the Ottawa Rough Riders of the Canadian Football League, who drafted him in the first round of the 1958 CFL draft
As a former professional Canadian football quarterback. Jackson spent his entire 12-year professional football career with the Ottawa Rough Riders of the Canadian Football League. He is a member of the Order of Canada, the Canadian Football Hall of Fame, and Canada's Sports Hall of Fame, and has been described as the best Canadian-born quarterback to play in the CFL. In 2006, Jackson was voted one of the CFL's Top 50 players (#8) of the league's modern era by Canadian sports network TSN, the highest-ranked Canadian-born player on the list.
CFL Draft:
1958 / Round: 1 / Pick: 6
Drafted by:
Ottawa Rough Riders
Career highlights and awards
Grey Cup champion (1960, 1968, 1969)
All-Star:
CFL 1966, 1968, 1969
Eastern All-Star – 1962, 1963, 1967
Awards:
Jeff Russel Memorial Trophy(1959, 1969)
Most Outstanding Canadian(1959, 1963, 1966, 1969)
CFL MOP (1963, 1966, 1969)
Grey Cup MVP (1969)
Lou Marsh Trophy (1969)
Honours:  Order of Canada (1970)
Canada's Sports Hall of Fame(1975)
Canadian Football Hall of Fame, 1973
Follow the Wikipedia links to an interview on U-Tube "CFL Legend Russ Jackson interview on Sports Bis".