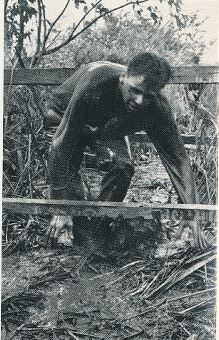 Article written by 12207 Kevin McCarthy and shared from the Class of 1979 website – https://www.tdv79ers.ca/
When we were cadets, everyone of higher rank seemed so experienced, competent, and vastly more confident than us.  Even the more so for the occasional general officer we encountered.  For the most part, the general we were most likely to encounter was the Commandant.  For our first two years at RMC (1976-77), that was Brigadier General W.W. Turner.  As he was at the end of his career at that time, he was also a lot older than not only us obviously but perhaps our parents as well.  His grand position and remoteness over in the Mackenzie Building, or in his palatial home on campus, made him seem the very antithesis of the young dynamic officers like our squadron commanders who were full of élan and intensity.
I recall a vivid example from the Commandant that showed this was not the case.
It was the fall of second year and we had all just completed the Basic Officer Training Course  (BOTC). We were back into the college routine of academic classes, parades, intramural sports, and the occasional visit into Kingston.  Somehow I was appointed Second Year Class Senior and so it fell to me to organize the construction of the Recruit Obstacle Course.  Falling back upon the recent lessons from our summer training, I saw this as nothing more than a somewhat large small-party task.  Fortunately, the job was easy to split up into several small-sized tasks assigned to the groups of second years in each squadron.  Once everything was built, it was necessary to get the approval of our efforts by the higher-ups.  Unfortunately, a few years before, a recruit had drowned during the obstacle course and there was a great deal of heat and light on us to ensure that our version was safe.
On a wet afternoon in the week before Ex-Cadet weekend, I found myself standing in a soggy Navy Bay sports field waiting for the Commandant to inspect the set of obstacles found there.  The first to be inspected was the infamous muddy ditch through which the recruits would have to leopard-crawl – it was early in the course to make sure they would be wet and muddy for the remainder.  To ensure they got the full experience of being in the mud, the ditch was crossed by 4×4 posts every six feet or so to ensure they maintained contact with the mud.
My first surprise that afternoon was that the Commandant and his entourage approached us wearing their full CF uniforms and shiny shoes as they had probably just finished some important staff meeting or perhaps a promotion or award ceremony.  We on the other hand, were dressed in those ugly green work-dress uniforms with combat boots.
After a quick look at the ditch, BGen Turner asked me where we were to go next.  I pointed across the ditch at some other obstacle involving cargo nets or some such thing.  I expected him to lead the way around the ditch and we would all follow.  It was now time for the second surprise of the day.  He immediately started a tightrope walk across a 4×4 post over the ditch which was not in any way secure.  There was an unspoken gasp among his staff and the Second-year organizers as we realized we were going to have to follow him on this vastly more dangerous route.  He made it across easily and looked back at the rest of us as if to say "What are you all waiting for? Get on with it!"  We all eventually made it across without significant incident.
This showed us all that this somewhat aged officer still had the spark in him that came from being a veteran of the Battle of Normandy with the 4th Canadian Armoured Division while serving in France, and later in Belgium, the Netherlands, and Germany through to the end of the Second World War.
A number of years later, I had the fortunate opportunity to talk to him at one of our reunion weekends.  He seemed pleased when I told him of my recollection of that event and the impression it made upon me.  Without a pause, he remembered doing so and related how important it was that he inspected these obstacles to ensure safety.
I recall another event involving another General that again showed this spirit.  On one afternoon, we all attended a presentation by the Chief of the Defence Staff  (CDS) of the day, General Dextraze, held in Currie Hall.  After he was finished speaking, BGen Turner stood up from his seat in the middle of the front row to shake the CDS's hand and deliver a thank you to the visitor.  There was bit of hesitancy on both their parts as the Commandant went one way to the set of stairs at one side of the stage and the CDS headed to the set of stairs at the other.  The CDS then raised his hand as if to say, "Wait there!" and immediately leapt off the stage to meet the Commandant in the middle.  Again who would expect such a senior (in age and rank) officer to demonstrate such sprightliness?  I guess that now that we have reached these ages ourselves we could only hope we have such spunk.  I know that these days the only jumping I do is to conclusions!
NOTE:
We learned sadly that BGen Turner had passed away in 2016, albeit at the age of 95 years. The following obituary was published in the Victoria Times-Colonist in December 2016:
TURNER, Brigadier-General W.W.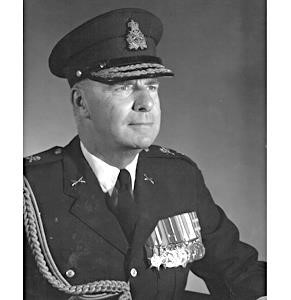 Passed away peacefully in Kingston on 13 December, 2016 at the grand old age of 95. He will be dearly missed by Hope, his loving wife of 65 years and their three children William (Nadine), Hope (Serge), and John. He was the proud and loving Grandfather of Colin (Jill), Amanda (Lee), Scott, Anthony (Marcela), Brittany (Adrian), and Hayley and was Great-Grandfather to Emily, Ethan, Logan, Dawson, and Hudson. He was the oldest son of Colonel M.W Turner, OBE, CD and Aileen and is survived by younger brother Commander M.A. Turner, CD (Diana).
He began his distinguished career in the Canadian Army by enlisting in the non-permanent active militia in Victoria, BC in 1938. He entered the Royal Military College as a Gentleman Cadet in 1940 and was commissioned two years later as a Lieutenant in the last Class to graduate during World War II. He landed on the Normandy Beaches in August 1944 with 4th Canadian Armoured Division and served as a Gun Post Officer, a Command Post Officer, and a Forward Observation Officer in France, Belgium, the Netherlands and Germany. Peacetime career highlights included appointments as Brigade Major, 4th Canadian Infantry Brigade in Soest, West Germany; Commanding Officer 3 RCHA in Hemer, West Germany and in Winnipeg; Commander Canadian Contingent in Nicosia, Cyprus; Director of Operations at NDHQ; and finally, as Commandant of the Royal Military College, ending his Regular Force career where he began it, 37 years later. To his great delight, he was appointed Colonel Commandant of the Royal Regiment of Canadian Artillery, a role he relished from 1979 to 1986.
After leaving the Army, he was a Vice President at the Urban Transit Development Corporation in Kingston and later worked with his very good friend Brit Smith at Homestead Land Holdings Limited. He was a lifetime member of The Royal Military College Club of Canada, was a Past President of its Kingston Branch and served as his Class Secretary for many years. He belonged to the Royal Canadian Artillery Association, the RCHA Brigade Association and the Royal Canadian Legion Branch #560, was an Honorary President of the Royal Canadian Legion Branch #9, and was a Past President of the Royal Kingston United Services Institute. Family and friends will remember him for his love of life, family, soldiering, the Moon, his self-discipline, his sense of duty, and how much he enjoyed a hot meal and a good joke. A Memorial Service will be held at Currie Hall, Royal Military College Kingston on Monday 19 December at 1100 hours, followed by a reception at the Fort Frontenac Officers' Mess and Interment at the Cataraqui Cemetery. Brigadier-General Turner will arrive at his service on a Gun Carriage that will make its way from the Memorial Arch.