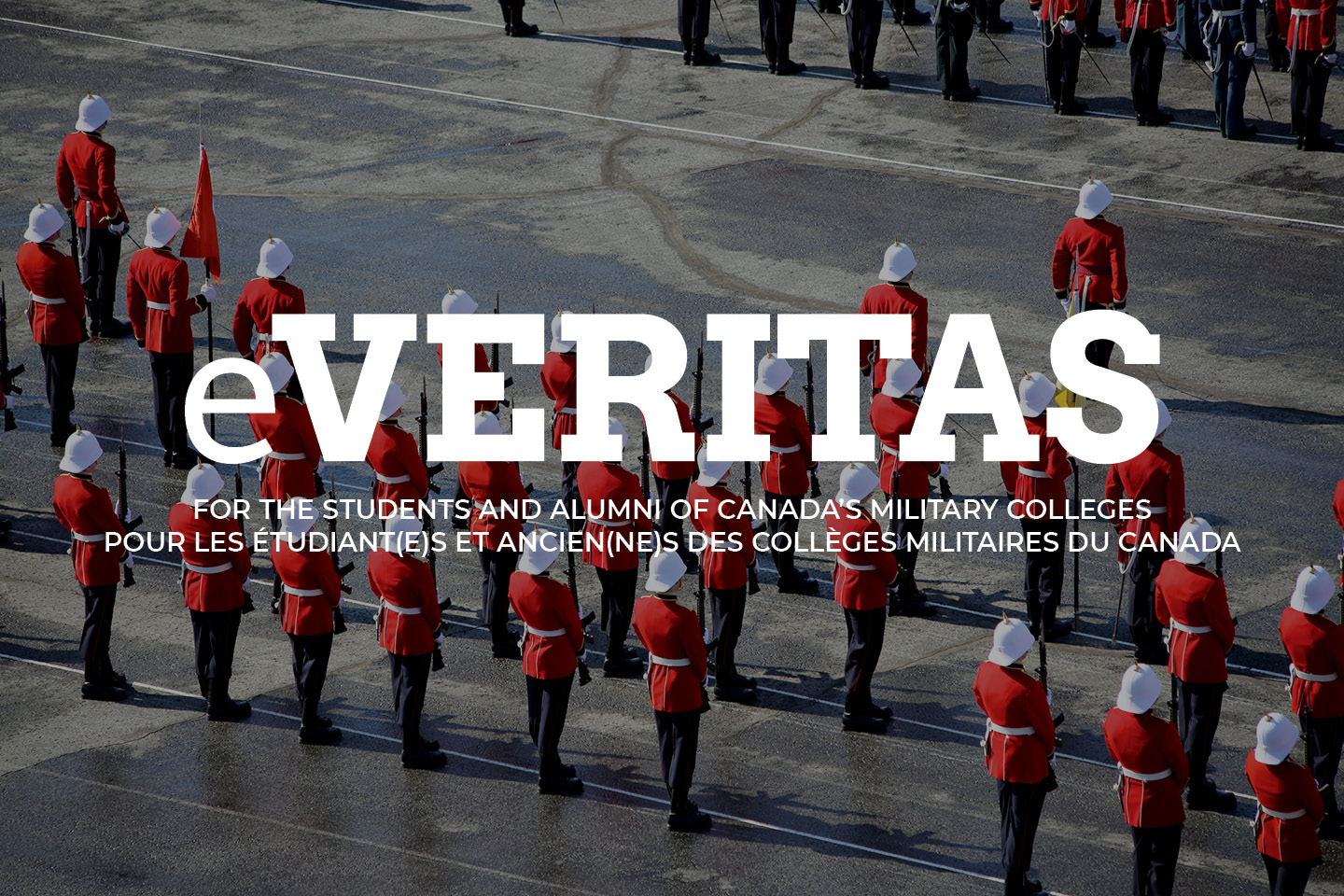 The next installment in our series of Ex cadets and other Canadian Military College graduates who have been recognized for going above and beyond the call of duty.
E3161 Victoria Edwards (RMC 2003) interviewed 17384 LCol Dave R. Rudnicki (RMC 1990), who was recently awarded a Meritorious Service Medal.
Editor's note: LCol Rudnicki retired from the CF shortly after being interviewed for this article.
e-veritas : Which Military Colleges did you attend? What are your research interests?
17384 LCol Dave Rudnicki: I attended RMC all four years (1986-90). I graduated with a B.A. Commerce in 1990. I can't say I had any substantial research interests. I enjoyed the whole college experience, probably too much social and sports and not enough academics.
e-veritas: What was your main extracurricular activity while at the college?
17384 LCol Dave Rudnicki: A full course load at the College, along with the required military routine, allowed little time for much else. I played on the Varsity Golf team in first year. Yes we had a golf team don't laugh! I played on the Rugby team (2-4th yr). I was a drummer with the RMC band, Pipes and Drums (2-4th year). As a member of the 400 club on the PT test, a key interest was general fitness.
e-veritas: What is your worst memory from Military College?
17384 LCol Dave Rudnicki: My worst memory was the morning wake up song and the anticipation of it coming on. Back in my day we had record players and the recruit staff had rented large speakers to blast the music down the hallway. It was so loud that the crackling of the record player needle on the record just before the music started would wake you up. It was not the best way to start the day; the song was "Run to the Hills" by Iron Maiden. I think I can still sing it word for word.
e-veritas: What are your best memories from Military College?
17384 LCol Dave Rudnicki: In hindsight my best memories are the entire four years. I may not have felt that at the time but every year provided me with unique challenges that I now look back at with good memories and a smile. A highlight is finishing the obstacle course with my recruit flight and the positive encouragement from our 4th year recruit staff. I also have great memories of celebrating at the graduation ball with my family and good buds.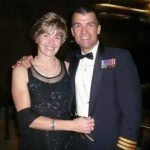 e-veritas: What have you been doing since you graduated?
17384 LCol Dave Rudnicki: I have been in the military since graduating in 1990. I trained as a Logistics Officer in Supply. After my initial posting to 8 Wing Trenton (Supply), I moved to Ottawa where I worked within the Directorate of Aerospace Equipment Program Management where I gained valuable experience in procurement and contract management. On a personal side I am actively involved in cycling and compete regularly in local road cycling and mountain bike events. I have also completed several 24 hour solo bike races where you ride as far as you can in the 24 hours and I commute to work by bike as much as possible year around. I was also actively involved with my wife Sharon Donnelly's (RMC 90 17324) triathlon career. She was member of the national triathlon team for 10 years and competed at the 2000 Sydney Olympics. We trained a lot together and I was fortunate to be able to travel to many of her events and support her over the years. While I was posted to Colorado Springs (2006-09), Sharon was hired by USA Triathlon as a part time coach as their National team is situated in the city. This eventually led to more responsibilities and she was selected as the head coach for the US team at the Beijing Olympics.
e-veritas: You've been back to the College.
17384 LCol Dave Rudnicki: In '99, I came back to RMC for three years as the 4 Sqn Commander and EA to the commandant, 8850 Rear-Admiral David Morse (RMC 1971). I returned to Kingston as the Operations Officer at the CF Joint Support Group (2004-2006). I was then posted to US Northern Command HQ, Colorado Springs within the Interagency Coordination Directorate (2006-2009). I attended the Joint Command and Staff Program at the Canadian Forces College, Toronto in 2010.
e-veritas: What are your career highlights?
17384 LCol Dave Rudnicki: I served three tours in Bosnia (2002, 2003-2004). I was posted to 2 Air Mov Sqn in 2002, then a deployment to Bosnia as Movements Officer for the Task Force. In 2003, I was posted to the CFJSG in Kingston then quickly posted to Bosnia-Herzegovina for 13 months as the Task Force Contracts Officer. My key role in Bosnia was negotiating all in-theatre contract support and the stand up and oversight of the first Canadian Forces Contractor Augmentation Program (CANCAP) with SNC-Lavalin PAE for Real Life support to the Canadian Task Force. Recently, my numerous short deployments to Afghanistan managing contracted and coalition support have been a great opportunity and an honour.
e-veritas: What are you up to these days?
17384 LCol Dave Rudnicki: I am currently working at the Canadian Operational Support Command HQ in Ottawa as the Director of Operational Support Contracts and Agreements, overseeing all contract support to deployed and domestic operations. In this position I am also the project director of the CANCAP program. I am retiring on 16 Feb 12 after 25yrs 8 months of service and have accepted a position with the Canadian Commercial Corporation as a Senior Project Manager Defence Programs. It is a Crown Corporation under DFAIT. Sharon and I live in Orleans with our two children Gemma (6) and Evan (4). Sharon will continue with her triathlon coaching and assist with the set up of a Triathlon regional training centre in Ottawa in conjunction with the University of Ottawa and Own the Podium.
Layout by NCdt (IV) Mike Shewfelt, 25366