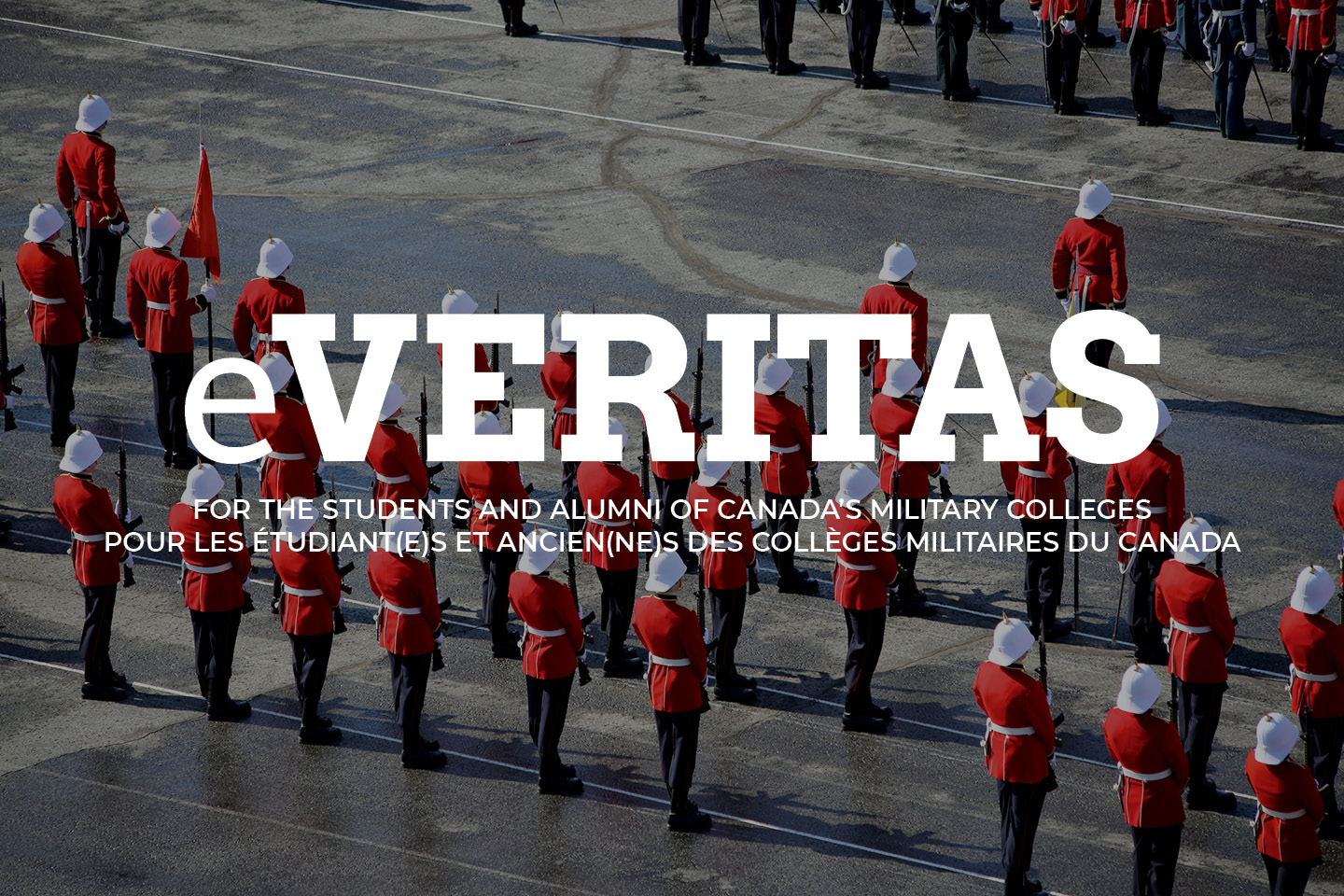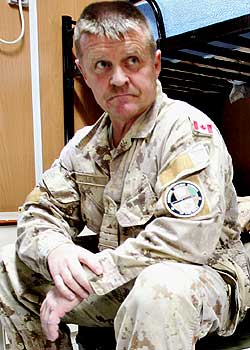 "I am not the typical RMC graduate – having said that I am grateful for the opportunity to complete my degree and for the advanced educational opportunities that are made available for members of the CF." – LCol Dan Drew
E3161 Victoria Edwards (RMC 2003) interviewed E3096 LCol Daniel Drew OMM, CD (RMC 2004), who assumed Command of Canadian Forces Base Suffield in June of 2005 and is currently the Senior Military Officer at Defence Research and Development Canada (DRDC) Suffield.
e-veritas: How did you come to be a U.S. Army Ranger?
E3096 LCol Daniel Drew: I joined the Canadian Forces in June 1976 as an Officer Cadet in the Officer Candidate Training Program, which trains civilian candidates and selected serving members, for service as commissioned officers in the Regular Force. In 1977, I was commissioned in the Princess Patricia's Canadian Light Infantry (PPCLI) as a Second Lieutenant. I was selected for Ranger training after applying for one of the 6-9 positions that were offered to Canada in 1980. I graduated in 1980 as the Officer Distinguished Honour Graduate and the winner of the Merrill's Marauder Award for Leadership and Navigation Excellence. U.S. Ranger School at Fort Benning, G.A. is a tough training course developing expertise in leading Soldiers on difficult missions – in close combat and direct-fire battles. The three phases of Ranger School, 'crawl', ' 'walk' and 'run' require Soldiers to make quick decisions in adverse situations. Lasting 20 days, crawl is designed to assess and develop the necessary physical and mental skills to complete combat missions. During the 21 day walk phase, students receive instruction on planning, preparing and executing a variety of combat patrol missions in a mountainous environment. Run Phase training develops the students' ability to lead small units on airborne, air assault, small boat, ship-to-shore, and dismounted combat patrol operations in a swamp environment against a well-trained, sophisticated enemy.
e-veritas: Before starting your undergraduate degree at RMC as a mature student, you had completed a graduate level program at Marine Corps Staff College.
E3096 LCol Daniel Drew: Yes. My first real taste of university-level academic life, however, was in 1997 when I attended a ten month intensive Marine Corps War College® at Marine Corps University in Quantico, Virginia. The program involved the study of national military strategy, theatre strategy and plans, and military support within the context of national security policies, decision-making, objectives, and resources. At the time, I was ineligible to participate in the masters' degree in Strategic Studies program since the Marine Corps University's graduate degree programs require that candidates hold a qualifying undergraduate degree. I returned to RMC hungry for more academic challenges.
e-veritas: How did you come to graduate from RMC as a mature student in 2003?
E3096 LCol Daniel Drew: As a member of the Air Cadets c. 1972-3, I toured Fort Henry and the Royal Military College of Canada. When I decided to join the Canadian Forces, I applied to RMC right out of high school. Unfortunately, I was so busy with hockey that my high school grades dropped and my application was not accepted. After taking my commission in the PPCLI, I served in all three battalions of my Regiment and 2 Airborne Commando, The Canadian Airborne Regiment. In addition to six Regimental tours, including five operational tours overseas, I was employed as an Operations Staff Officer at Area and Army level and as a Company Commander in the School of Infantry in Gagetown, NB. As a mature student, I completed the majority of courses towards my Bachelor of Mil Arts and Sciences degree from RMC via distance education, complemented by a year of full time study at U of Alberta in 2003.
e-veritas: You had the opportunity to give several invited addresses at RMC.
E3096 LCol Daniel Drew: Yes. The first invited address at RMC was on leadership in the context of peacekeeping operations based on my experiences commanding Delta Company of the Second Battalion during the Medak Pocket operation in Croatia in 1993, an action for which the Second Battalion was awarded the Commander-in-Chief's Commendation. My second invited address at RMC was on domestic operations; based on my experiences as lead planner at LFWA HQ for the mega-security operation that was mounted in conjunction with the G8 held in Kananaskis in June 2002.
e-veritas: You recently presented "Counterinsurgency in Afghanistan: The Canadian Experience, 2008" at a Graduate Strategic Studies Conference: Strategy, Security, Defence. You presented on the same topic at Fort Hood, Fort Benning and at Marine Corps University in the USA.
E3096 LCol Daniel Drew: Yes, my experience is based on my operational tours. In 2008, I was the Deputy Commander of the Operational Mentoring and Liaison Team (OMLT) for Task Force 1-08 where I worked very closely with the XO or Deputy Commander of an ANA Brigade. The "Omelet" teams work with the 1st Brigade 205 Corps, Afghan National Army (ANA) and Afghan National Police (ANP) to help smother Taliban hotspots. I was one of about 200 Canadians embedded in 1/205, a brigade of 3,000 in Kandahar province for about seven months in 2008. I mentored Ahmed Habbibi, an outstanding officer on the battlefield, who now commands 1/205 Brigade. Pictured below is an OMLT team in the Arghandhab District in late June 08 during a lull in the fighting. We were dispatched to that area to deal with a Taliban threat to the north of Kandahar City after the big Saraposa prison breakout. (L to R Cpl D.A. MacDonald, Sgt P. Sprenger, myself, Capt Bob Barker and Cpl C.T. Vickerman). All of those men were decorated for their courageous conduct during that foray into that district; at the time we were all members of 3PPCLI. In the intervening years, the ANA has grown from 1 brigade to 5. In 2011, I assumed the duties of Chief of Staff for a NATO Headquarters in Kabul, Afghanistan that supervised the training and development of the Afghan National Army.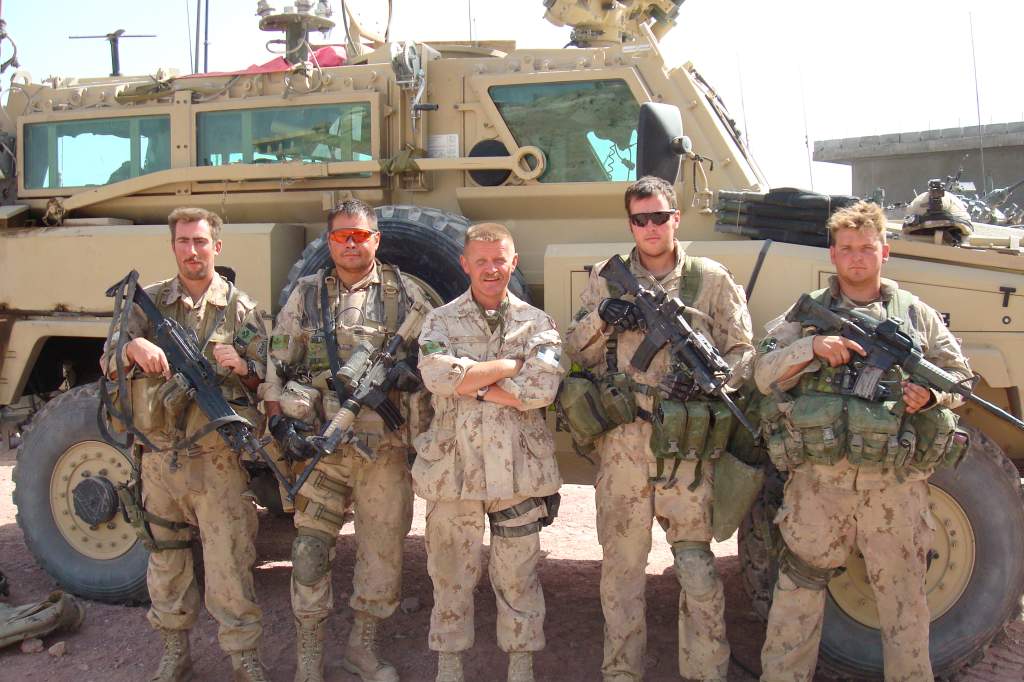 e-veritas: Any lessons learned?
E3096 LCol Daniel Drew: Since the Afghan troops are for the most part illiterate; I argue that there must be a greater emphasis on training and educating the soldiers. While the lack of basic literacy skills has some impact on conveying routine soldier skills such as cleaning weapons, it has more of an impact on administration and logistics. The US had supplied computers and software to the Afghan National Army's KANDAK 5 combat services support to account for, manage the supply chain and inventory of spare parts of the combat vehicles and weapons. In retrospect, training the ANA in the use of writing paper records by hand could have been more productive, and less complicated than computerization.
To be effective, the military needs to develop its cultural understanding of Afghanistan. Deployable cultural specialists provide cultural awareness training. Most Service personnel got just a couple of days of cultural awareness briefing before deploying to Afghanistan, and the training need was poorly defined e.g. count 1-20, say hi and bye, we need to do a better job in the future. One way to do that is to use Afghan Canadians as Language and Cultural Advisers, a practice that is presently used but needs to be expanded. I would see an LCA selected by the deploying unit as being an embedded asset from beginning of pre deployment training – that way he would become a member of the team while concurrently conducting continuous language and cultural training for the troops. We can also take advantage of training aids such as Rosetta Stone language training CDs, every soldier should have one to learn with and their should be defined vocabulary goals i.e. 200 words of Pashtu or Dari and perhaps 10 phrases. I was lucky enough to have an LCA, his name was Salim, and he was an invaluable asset; not only was he able to speak to the locals, he was fully cognizant of the culture and because he was a Canadian he was not a security risk.
e-veritas: As Senior Military Officer at the DRDC Suffield, you believe that the Canada Blast Injury Program is the most important area of research for our veterans.
E3096 LCol Daniel Drew: IEDs are the Taliban's weapon of choice. IEDs are used to blow up soldiers on foot patrol, as well as vehicles. The Taliban plant IEDs in roads, in fields, along paths, and in stone walls. With so many of the 30,000 troops in Canada's combat mission to Afghanistan exposed to blast and the potential for long-range damage, research into the effect blast has on the brain is probably the most important program at DRDC now for our veterans since it will produce hard evidence for development of policies around measuring and recording soldiers' exposure to blast and determining exposure limits. Between 35 and 40 specialists at Suffield are involved in the program, including microbiologists, toxicologists, pharmacologists, neuroscientists, physicists, and blast specialists. The Blast Injury Program is trying to answer key questions: How much exposure leads to brain damage? Does a severe blast cause immediate as well as delayed injuries? Is there an accumulated effect from being exposed several times to minor blasts? See http://www.legionmagazine.com/en/index.php/2011/11/inside-the-blast-part-1-anatomy-of-an-explosion/