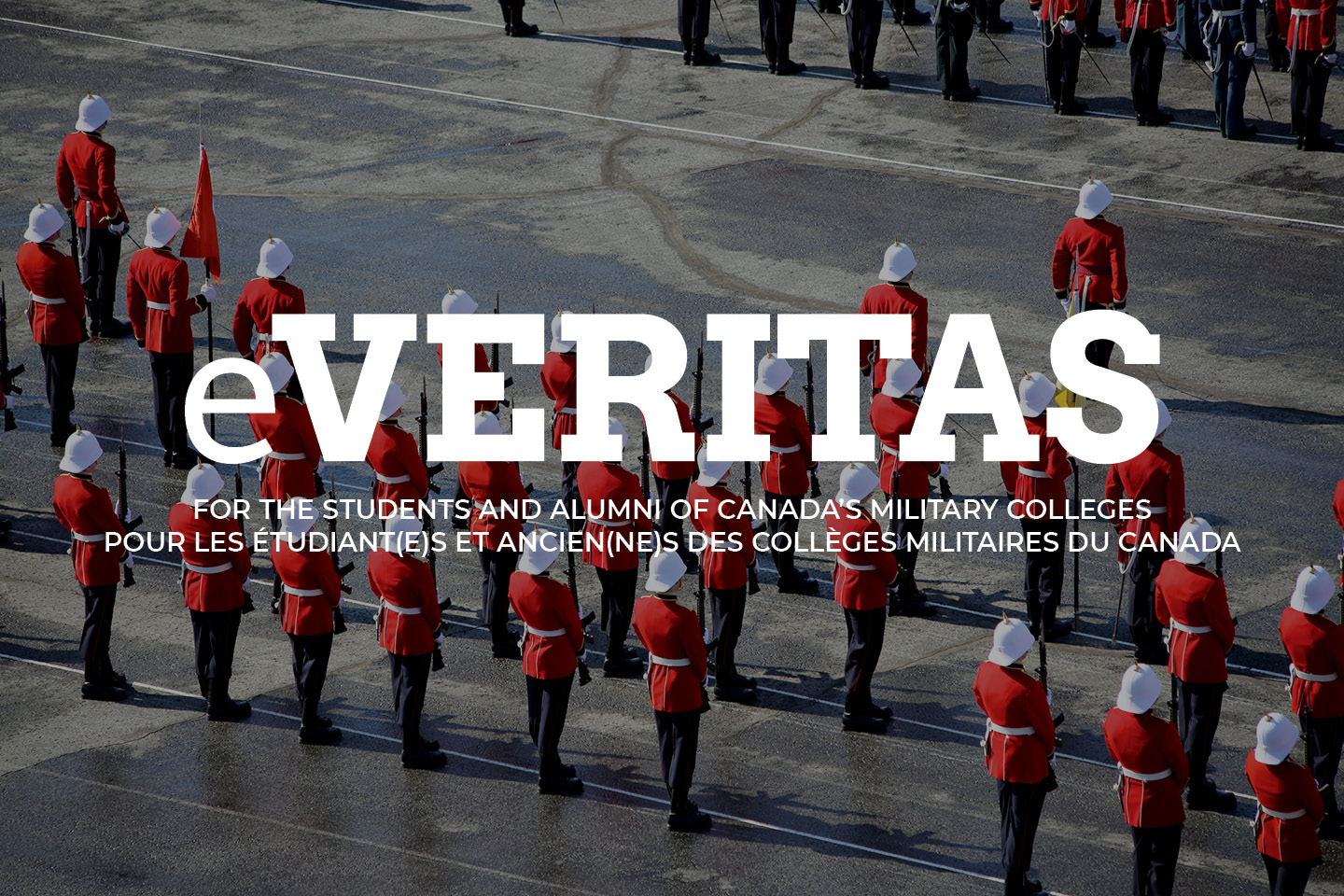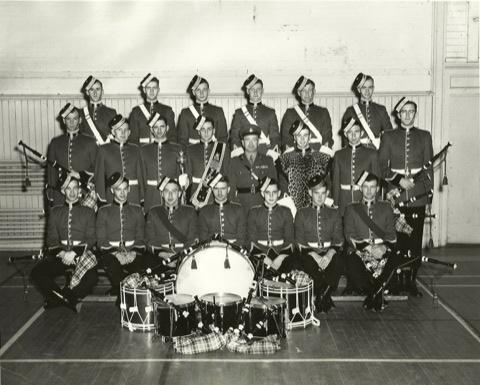 Bill,
Re: RMC Pipe Band 1956/57
As I downsize into a condo and retire from the Kalamalka Highlanders Pipe Band, I found this photo. The RMC Band may have it in its archives, but I thought I would send to E-Veritas in case the band did not have it. Of historical interest is that in the front row, third from the right is John Dechastelain (a first year cadet). First on the right is the pipe sergeant, Johnnie Wigmore and third from the left is the pipe major, Don Gregorie. I shall leave it to the E-Veritas staff and the historians to identify the others, although I am in the middle row, second from the right.
Regards,
4104 Murray Thom 
___________________________________
Hello Bill,
I just wanted to send a quick note to thank you again for being there to support 13 Sqn this morning and for taking the time to help me with the article and the parade arrangements. I am very glad that I was able to attend and to see you again. It was very nice to meet BGen Tremblay and hear his views on 13 Sqn and the way ahead. I truly believE that progress is the order of the day and that they are not just tossing things up to see where they land.
Also, as promised, here is the text of the recent CANFORGEN I mentioned:
CANFORGEN 088/12 RCN 019/12 031810Z MAY 12
2012 NAVY COMMAND AND SENIOR APPOINTMENTS – AMEND2
UNCLASSIFIED
1. VADM PAUL MADDISON IS PLEASED TO ANNOUNCE THE FOLLOWING NAVY COMMAND APPOINTMENT:
2. THE FOLLOWING OFFICER IS APPOINTED COMMANDING OFFICER:
(1) LCDR J. BOYD – HMCS REGINA – APS 12 (ON PROMOTION)
3. VADM MADDISON, COMD RCN CONGRATULATES YOU
4. ADDITIONAL APPOINTMENTS WILL BE PROMULGATED SEPARATELY
Although you may not need it now, it's good to see how well some of those close to my generation are doing (I believe he was class of 1997, my first year).
Thanks again for everything and I look forward to my next visit.
21736 D. Adam Bruce
Captain
Student-at-law
 ___________________________________
Greetings,
I came across this presentation (to USAFA cadets) on-line today and thought it was one of the best I've ever seen. It's from November of last year and may have been featured earlier in eVeritas; if so I missed it at the time. If not, it's something you might consider linking to – highly instructional and inspirational – for cadets, ex-cadets and serving officers alike. The link is from National Review Online.
http://www.nationalreview.com/corner/299797/weekend-inspiration-lessons-leadership-general-mark-welsh-usaf-michael-auslin
Regards
8666 Ted Fitch