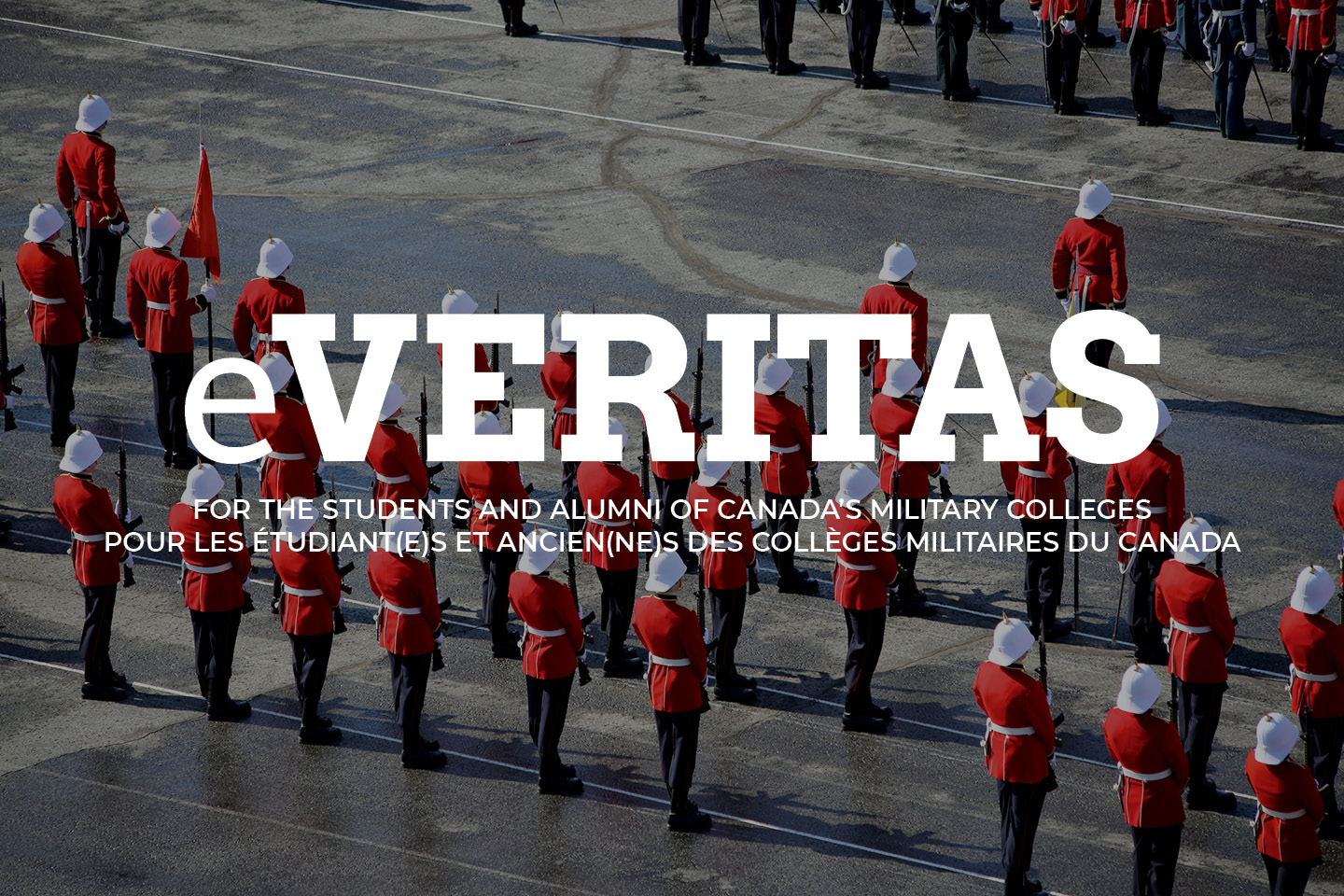 Please click on logo for membership info
________________________________________________________
Nobody asked me, but I will give my opinion on the issue of entering the Old Brigade and the naming of Classes.
The issue of "Year of Entry vs. Year of Graduation" raised in eVeritas 13 August 2008 by 5851 Barry Winfield continues to be one that must be dealt with by the RMC Club. For the next 40 years, we are going to have classes with some cadets that started CMR one year earlier than their RMC/RRMC classmates. As Barry says, "We will always be the Class of 1963" and that situation is the same for all the classes from the mid-50s to the mid-90s. My Class of 1976 includes those that entered in 1971 and 1972, but we intend to mark any significant milestones together – as the Class of 76.
This issue has been dealt with at length by the Class of 64 as they approached this date, and there is comprehensive documentation on their Website under Old Brigade. While they posted an article "WE DID IT" which explains that they have received approval to have an "Early Welcome Option" in 2009, this seems to me to be an interim step. This approval described in a portion of an 24 June 2008 email from A.K. Roberts, Adjutant of the Old Brigade:
As the President of the Club said during the 23 May meetings, I got it from one direction and he got it from the other. Under such circumstances, it seemed that a compromise was in order, and that is what occurred. The definition for entry has been maintained, but Early Welcome will be extended to those classes who wish it. The President informs me that the 'renegade' classes are more than happy with this outcome. While this solution does not meet with unanimous approval, it avoids what would probably have been a nasty constitutional exercise as well as the possible weakening of the Old Brigade.
It seems to make sense to me that the 5-year cycle of reunions should always continue, and it is not logical for most of a class to enter the Old Brigade on the 46th year after graduation. It seems to me that the best thing to do is to make a decision that it will be specific number of years after graduation. If 45 years after graduation would cause a "possible weakening of the Old Brigade", then make it 50 years after graduation. This argument has been going on for the last 10 years, and I hope that it can be settled by the time the Class of 1976 enters the Old Brigade – whether that be 2021 or 2026 (but not some of our class in 2021 and some in 2022).
10973 John McManus
_____________________________________________________
I would like to send out my sincere thanks to the RMC Ex-cadet Club and to the staff at Veritas for making the following connections possible.
I contacted Bill Oliver on July 22nd looking for his assistance. I asked if he knew of any Ex-cadets that would be able to offer insight or advice about the business side of the music industry. Bill did not know of anyone personally but printed my inquiry in Issue 25 of eVeritas. Within one day, I had a response from Ex-cadets. With their help, I have been able to connect with various music business insiders. I have obtained a great amount of information and advice from them that is guiding me in my current endeavors.
The Ex-cadets that responded were more than happy to offer their time in assisting me with my search and positioning myself for success. I am extremely satisfied that the RMC Club offers this service. Connecting our members plays a vital role in continuing our careers beyond the military. Like other alumni in any university, we have to make ourselves aware of what is out there within our Ex-cadet Club, including one-on-one assistance and advice. There is a world of expertise within the Club willing to help us.
As of this time, I am meeting with music business professionals in Toronto as I launch my new career. It would have proven difficult to gain these introductions without the help of the Club. As a small thank you, I would like to donate $250 to the RMC Foundation on behalf of those who have assisted me (Bill, Jim, Peter, Patrick, Gord, Ian, Reg, Andre, Mary and a special thanks to Digger MacDougall for your expert advice). When I am in a position to reciprocate to cadets that request my assistance, I most certainly will.
Thank you again Ex-Cadets and Veritas for your help.
22908 Adam Debevc (RMC '01)
_____________________________________________________
Any reader know this Major Jean Bourassa? – If yes, pass on this note to him SVP.
Sir, as Belgian NCO, I served in the HQ SFOR Zagreb in 1998 under Major Bourassa Jean.
Unfortunately, I can't find any information about him. After a few years we lost contact! Maybe he passed away! I would like to get in contact with him again if possible! Does anyone of you can help me to find his Email adress or has any news about him?
Thanks a lot in advance!
Janssens Ivo
Adjudant
29BnLog 261CieMun