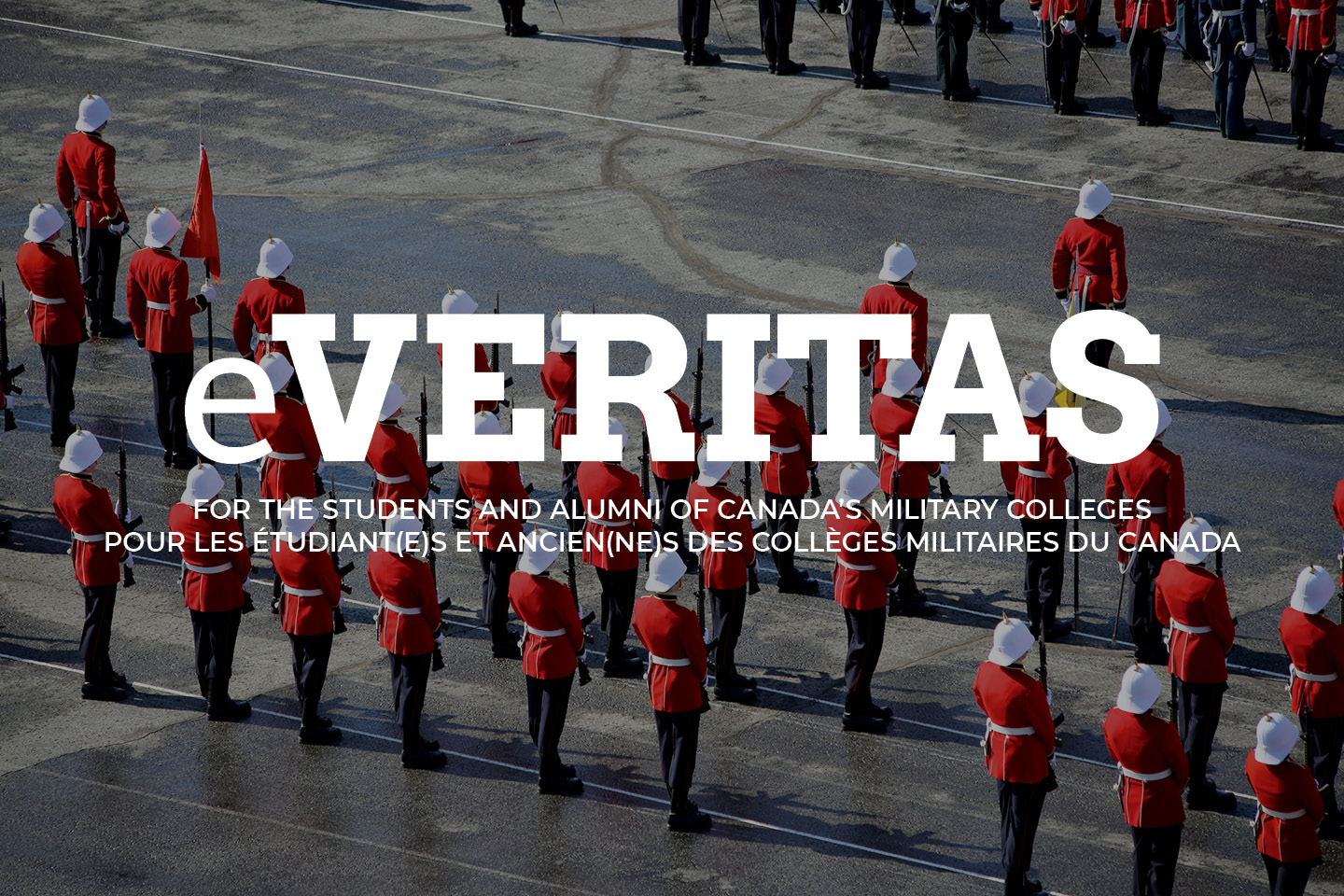 Click here for photos from the entire weekend
___________________
RMC Mess Opens its Doors for West Point Cadets!
Article by: 26659 (II) Danielle Andela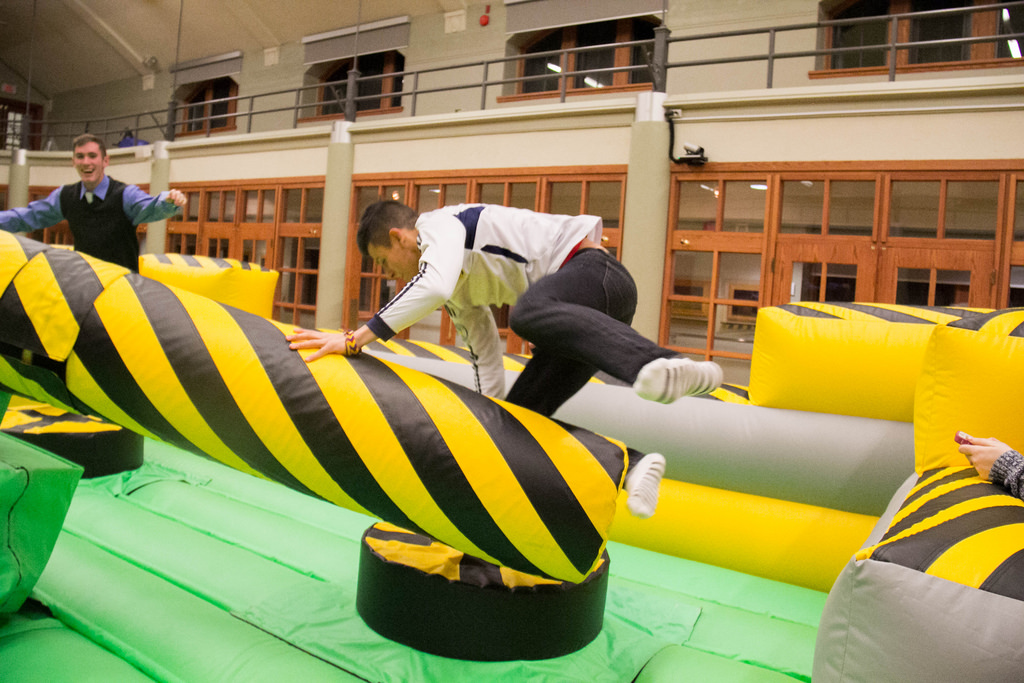 This weekend the Royal Military College of Canada Mess arranged a variety of events to make the West Point Cadets feel welcomed at RMC. Cadet Wing President of the Mess Committee OCdt Chawki (26050) Bensalem and Mess Manager Lori Alves-Macphail put together many events; these include a TGIT event on Thursday night, a Meet and Greet on Friday night and a Games Night on Saturday with inflatables! All participants had a great time and it was a wonderful opportunity for RMC and West Point Cadets to mingle and get to know each other.
Click here for a few more photos
West Point and RMC Join Forces for Cadet Wing Sports Competition
Article by: 26659 (II) Danielle Andela
Saturday, the 25th of January, Officer Cadets of the Royal Military College of Canada and United States Military Academy joined forces in the battle of squadron against squadron in a myriad of sports throughout the day. West Point Cadets were split into Squadrons and sports depending who their host was for the weekend. Sports included ball hockey, volleyball and runs of the Waterborne Obstacle Course.
The standings for the competitions are as follows:
Winner of the Waterborne Obstacle Course: 3 Squadron
Winner of Volleyball: 6 Squadron
Winner of Ball Hockey: 9 Squadron
RMC and West Point Teams Get Together to Train Through the Weekend:
Article by: 26659 (II) Danielle Andela
This weekend many teams that are common between the Royal Military College of Canada and the United States Military Academy got together to do workshops, practise and compete against one another. The following are summaries and photos from each team that worked with the teams from West Point this weekend:
The other teams who competed/did workshops together that are not mentioned here are the fencing team, waterpolo team, debate team, tae kwon do teams, chess team and band.
Judo:
This past weekend, the RMCC Judo Club partook in the I-81 Exchange with the USMA Judo Club as they hosted 10 cadets for a small Judo session as well as some friendly competition. USMA sent 10 of their best cadets from their 40 man team that practices 4 times a week and regularly competes on a nation-wide basis.
Despite RMC's evident disadvantage in terms of knowledge and skills, the Canadian judokas held their own against their American rivals and were even able to share a few techniques with them that they had not previously seen.
The RMC Club now looks forward to attending provincial tournaments in the area and even potentially visiting Westpoint for their annual tournament next Fall. This weekend proved to be somewhat of a turning point for the club as it looks to regain the pedigree and size it once had.
OCdt Landry (II) 26559, RMC Judo Club Captain and President
The RMC and West Point exchange always stands as a memorable experience where cadets from both countries strengthen the strong bonds between the United States and Canada. Specifically, the judo teams had the opportunity to participate in a joint practice.
Even though the West Point Judo team is a nationally ranked, the RMC judokas fought hard and, were able to shed knowledge regarding techniques. If the RMC club were afforded the same advantages West Point Judo has (set practice times, athletic training support, transportation, etc), their judokas would be even more a force to be reckoned with.
As always, this weekend was well spent forging lasting friendships with our brothers and sisters. Even after graduation, members of the RMC judo team will always be welcome with open arms, whether it be stateside or downrange.
CDT Talavera '14, USMA Judo Women's Captain
___________________
Highland Dance:
During this year's 2014 Winter Sports Day, RMCC's CWHDL, Sarah Berry, hosted Alissah McGill from Westpoint. Alissah has been competing in Irish dance for 8 years but she just started pursuing Scottish dance. She is the only highland dancer at her school. On Saturday, during the dance workshop, Alissah learned 3 new dances. "I've learned a lot," Alissah commented. She now knows the fling, flora and jig. Also, Alissah performed the flora with RMC's junior dancers at the RMC-Westpoint hockey game. From the perspective of the CWHDL (Cadet Wing Highland Dance Leader) "Alissah learns very quickly and was able to pick up the basics of Scottish dance while incorporating her own flare of Irish dance."
___________________
RMC Paintball Team:
"West Point Paintball was honored to compete against the cadets of the Royal Military College of Canada on the paint-covered fields of friendly strife. This was a great opportunity to build camaraderie with our fellow future officers, and to learn more about our allies in the Canadian military. It was a pleasure to meet the Canadian Paintball team, and, most of all, enjoy a big box of Tim Hortons." — Cadet Sergeant Jorge Alejandro Figueroa-Cecco, West Point Paintball CIC
"Having braved the weather this weekend, both the RMC and USMA Paintball Teams enjoyed having played paintball during this year's I-81 Exchange. It was an enriching experience for both countries and I am very pleased to have been able to plan this event. As this event was the first of its kind in the history of the military academies, I hope that this will continue in future exchanges and that the teams will be enriched by each other's experience – both on and off the field." – 26140 OCdt Hansen Tan, RMC Airsoft/Paintball Club President
26140 Hansen Tan