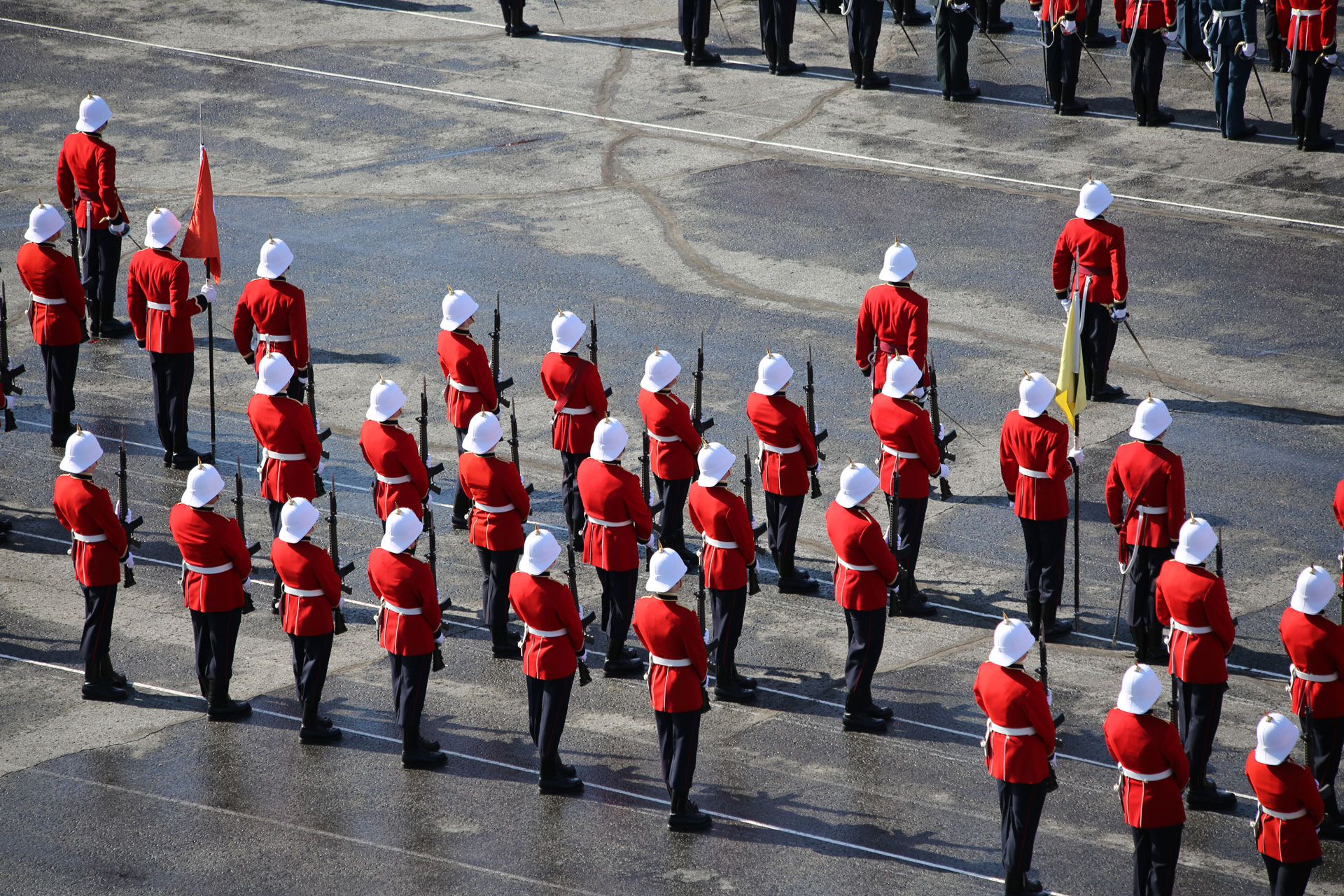 We have contacted numerous ex-cadets from the fifties through to the new millennium and plan to feature them in the coming months to give readers a chance to catch up with names and faces from each of the respective CMCs. If you would like to contribute to this column, please feel free to email me at dean.fleet@rmc.ca
by M0917 Dean Fleet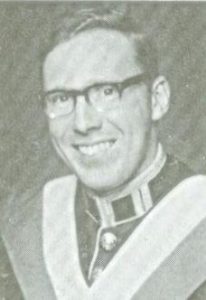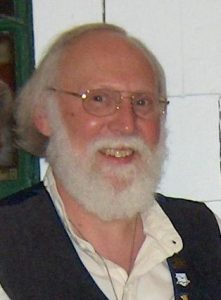 – 7809 Eric Ruff (RRMC RMC 1968)
Eric presented a guided tour of the exhibition Reflections on the Sea: Tall Ship Portraits and Models at the Art Gallery of Nova Scotia Western Branch on August 20th, 2009. With decades of research of sailing vessels, his presentation was filled with insightful facts pertaining to the genre of ship portraiture as well as historical accounts of the represented ships themselves. (Old Brigade Member 3918 Al Roberts (RMC 1957) and his wife Cynthia, who summer near Yarmouth, were in attendance.) Eric Ruff was born in a pub in England, immigrated to Hamilton, Ontario with his parents in 1957. He graduated from the Royal Military College, crossed the Atlantic in the yawl Pickle, and served in the Royal Canadian Navy in HMC Ships Saguenay and Nipigon. After a 31 year career as Director/Curator of the Yarmouth County Museum and Archives, which houses the third largest collection of ship portraits in Canada, he is now Curator Emeritus and is a Fellow of the Canadian Museums Association. Eric is also the 'skipper' of the Yarmouth Shantymen, who perform rhythmic work songs used by centuries of sailors to coordinate their pulling to hoist sail and cargo, and to perform other tasks onboard ship before the age of steam. Another ex-cadet, 5472 James Colbeck (RMC 1962), sang with the Yarmouth Shantymen until early this year when he, along with his wife Lori, moved back to Ontario. Eric and his wife Barbara recently spent six and a half months cruising the canals of England in a 54′ narrowboat – they are confirmed canalophiles.
Eric can be contacted at ebruff@ns.sympatico.ca
_______________________________________________________________________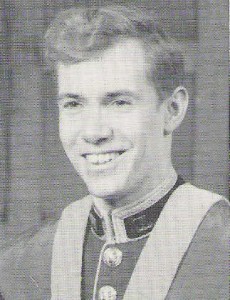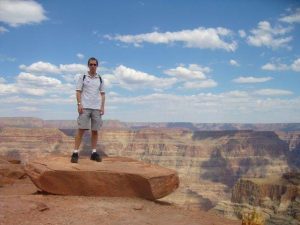 – 15453 Mike Smith (CMR RMC 1986)
After graduating in 1986, I did OJT at 727 Comm Sqn in St. John's. I returned to university on scholarship to earn my M.Sc. in Electrical Engineering at Queen's University in 1988. Near the end of CELE phase/classification training in late '88, the career manager asked me where I wanted to go on my first posting. I said I'd probably retire after my obligatory service and wanted to be near my financé, then in her 4th year at Queen's. He offered me Directorate Communications Security (D COMSEC) at NDHQ. I said I didn't know anything about security. He said they'd teach me. 21 years later, I'm still doing security in Ottawa, although now it's called IT security. I left D COMSEC and the CF in '92 to join SHL Systemhouse, working for a retired Military Police officer (there are a lot of ex-military in the IT security field). We left Systemhouse in 1999 to form an IT security start-up. Unfortunately, like many start-ups, we ran out of money; the company let everyone go in 2002. During my subsequent job search, I got a call from an ex-UTPM who recognized the subject matter of my Master's thesis on my resume; we'd had the same thesis advisor. The common military/RMC background sealed the deal and I was hired at AEPOS Technologies, an IT security engineering and consulting firm, where I still work today with many other ex-cadets and ex-military. I was married in 1990 and have two children, one of whom entered Queen's this fall. Sadly, my wife died of breast cancer in 2008. I participate in the Ottawa-Gatineau CIBC Run for the Cure every October to raise money for breast cancer research. I'd be deeply grateful to anyone who would be willing to support me. Work is good, I have a new special someone, my children are awesome, and Star Wars is on TV every week, so overall, I'd say life is fantastic! Classmates are welcome to look me up on Facebook.
Mike can be contacted at jmikesmith@yahoo.com
_______________________________________________________________________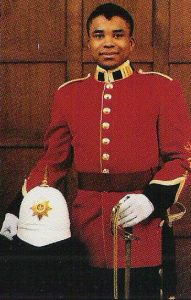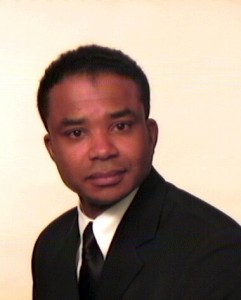 – 17743 Jacques Olivier (CMR RMC 1991)
After graduating from RMC with a BEng in Mechanical Engineering and as the recipient of the Navy League of Canada Prize, Jacques diligently progressed his naval training in Victoria, BC in Plymouth, England at the Royal Naval Engineering College, and in Halifax, NS where he achieved his Engineering Certificate of Competency in 96. Whilst on the East Coast, his shore postings included MARLANTHQ, NEU(A), CFNES(H) and MAROPSGRU5 HQ, in between which he sailed on the HMCS FRASER, SKEENA, NIPIGON, FREDERICTON, and was the Marine Systems Engineering Officer onboard HMCS HALIFAX from 99-01 where he was promoted to the rank of LCdr. He subsequently pursued post-graduate studies at the Massachusetts Institute of Technology in Cambridge, USA where he completed two Masters degrees: Mechanical Engineering, and, Naval Architecture and Marine Engineering.
His intellectual thirst satiated, he moved to Ottawa in 03 to lead a team of senior engineers and technologists providing life cycle materiel management and design authority support to all ship classes in the area of marine systems integration in the Directorate of Maritime Ship Support. In that post, he spearheaded the upgrade to the Integrated Platform Management System for the HALIFAX Class frigates, a $70M retrofit project. As a past time, he completed his MBA at the University of Ottawa and achieved his Project Management Professional accreditation. He returned to England (Bristol) in 06, where he was assigned to the duties of R&D officer within the MoD Defence Equipment & Support power and propulsion group responsible for all aspects of surface and sub-surface engineering support to the Royal Navy and Royal Fleet Auxiliary flotillas. Of note is his winning of the 2nd prize of the Sir Donald Gosling Award at the IMarEST 9th International Naval Engineering Conference and Exhibition held in Hamburg, Germany in 08.
Rich from his European experience in art and culture, he was repatriated to Ottawa in 08 to his current post as the Platform Systems Manager for the Canadian Surface Combatant Project Management Office, a multi-billion major crown project, aiming to replace the capabilities of the IROQUOIS Class destroyers and HALIFAX Class frigates.
Jacques can be contacted at jacques.olivier@forces.gc.ca
_______________________________________________________________________

– E3693 C.S. "Duff" Sullivan
The Canadian general who directs the air war in Afghanistan is assuming his most challenging job yet: unravelling what happened in the province of Kunduz when a nighttime air strike on two hijacked fuel tankers killed what might have been scores of civilians.
x
x