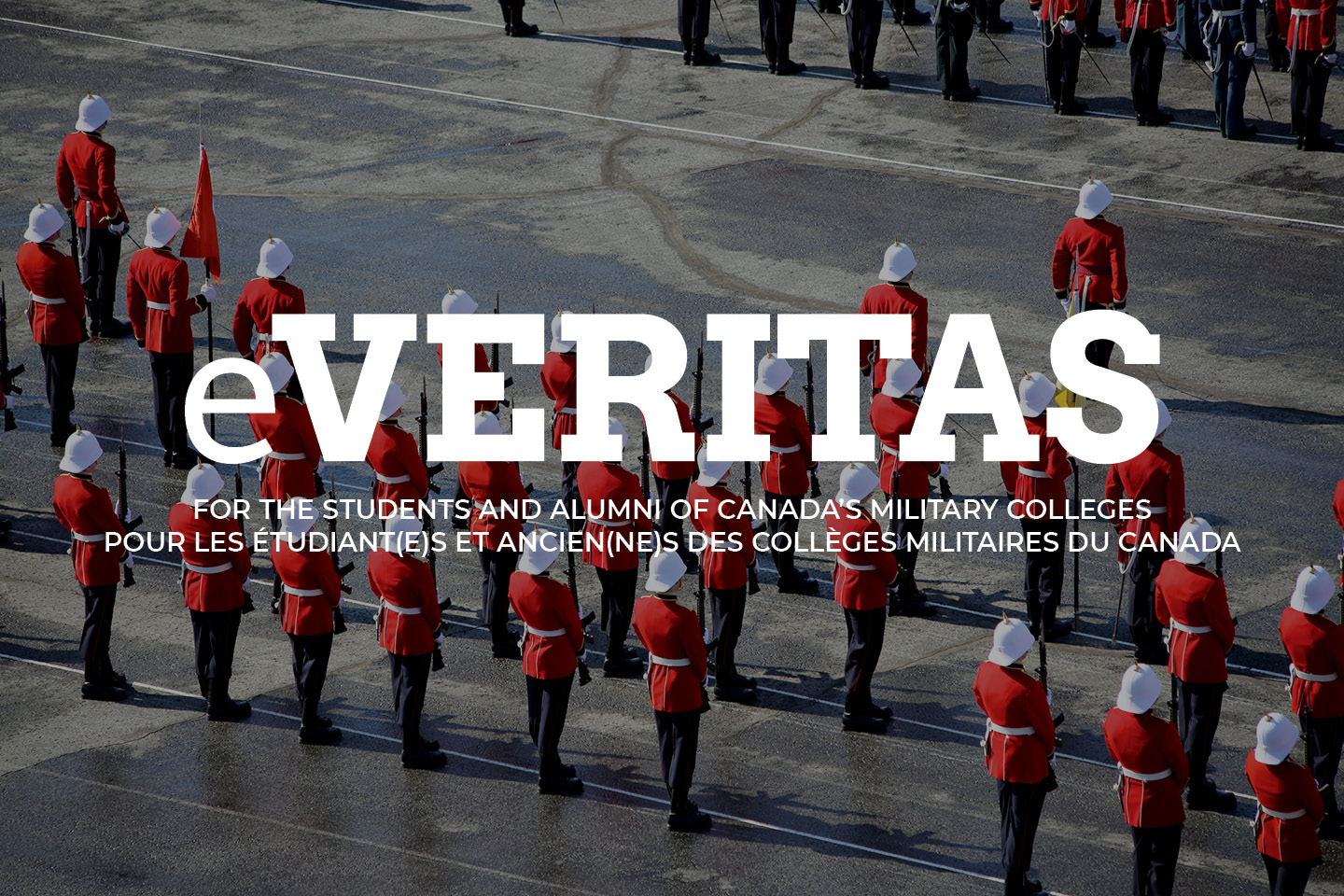 Cadets & Winter Arrive the Same Week
By: 26263 OCdt (I) Catherine Larocque
It goes without saying that when the weatherman/woman calls for cold, it`s even colder on the peninsula. When it snows, it snows more on the peninsula. When it rains, it rains more on the peninsula and when it`s windy, well it`s windier on the peninsula.
With OCdts hailing from every corner of the country, each expected some kind of meteorological surprise when they returned from holidays. The first that crossed their minds: where is the snow!? With the storms felt in Southern Ontario and most of Quebec over the holidays, the lack of snow (or even cold weather) in Kingston was perplexing.
A light dusting on Tuesday was promising, but did not last. It was not until Thursday, when Armageddon transformed the peninsula into a giant sized skating rink, that winter truly arrived. This, four days after the arrival of the cadets, was followed by snow on Friday and bitingly low temperatures on Saturday. The extreme weather is, without a doubt, the peninsula`s way of welcoming the OCdts back.
Jumping back into the routine was different for everyone. For some, it was challenging and accompanied by longing for just one more week at home (and more home cooked meals). For others it was met with enthusiasm and impatience for things to get underway. With new classes, a new divisional structure, Sandhurst try-outs, visits to/from West Point and Norwhich, IMs, Colour Party competition, Sports Day, and of course the fourth years' final semester all coming up, the term will certainly offer many opportunities and challenges to the OCdts.
Photos, captions, article by: 26263 OCdt (I) Catherine Larocque
On, Thursday, January 12th, Kingston experienced its first ice storm of the winter. Despite skating rink like conditions on campus, the scenery did not fail to impress as shown in the few photos below.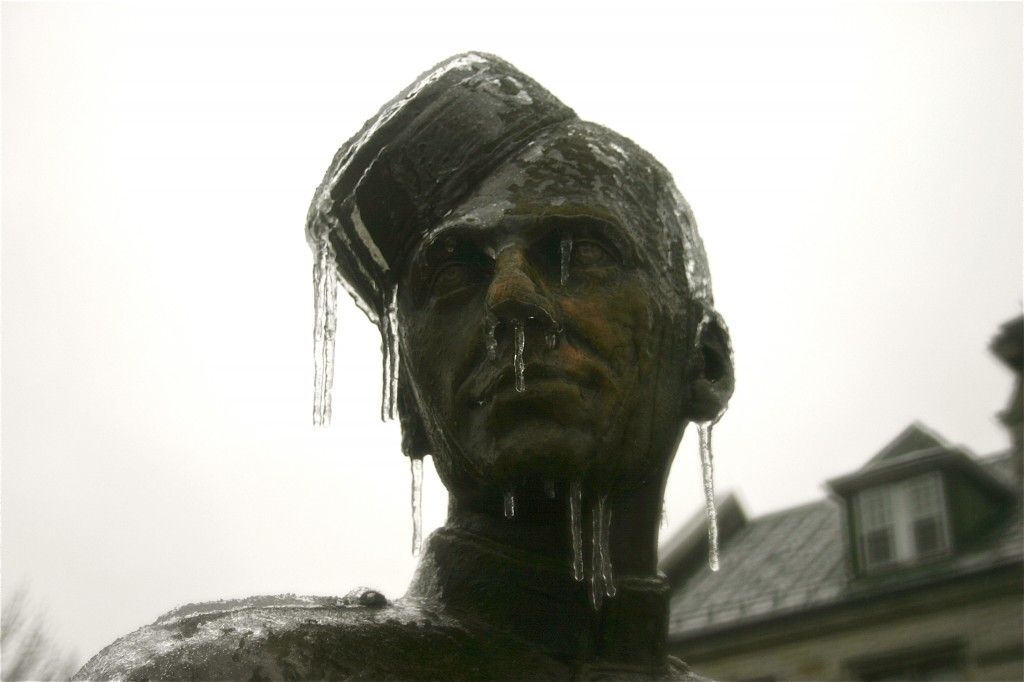 "Brucie enjoying a good Canadian winter"
1 Cadets trying to avoid getting their oxfords soaked in the slush.
2 Cadets walking back from the Sawyer building- many classes were cancelled on this photo day, so that accounts for the scarcity of people.
3 Back from the holidays: despite the weather, cadets take advantage of the walk to and from class to catch up.
4 First Years taking a minute to appreciate the campus.
1 Fort Sauve – pretty quiet while cadets are in class
2 Scenic shot of Mackenzie/Currie Bldgs
3 Wall of Honour in Winter
4 Well traveled corner on the campus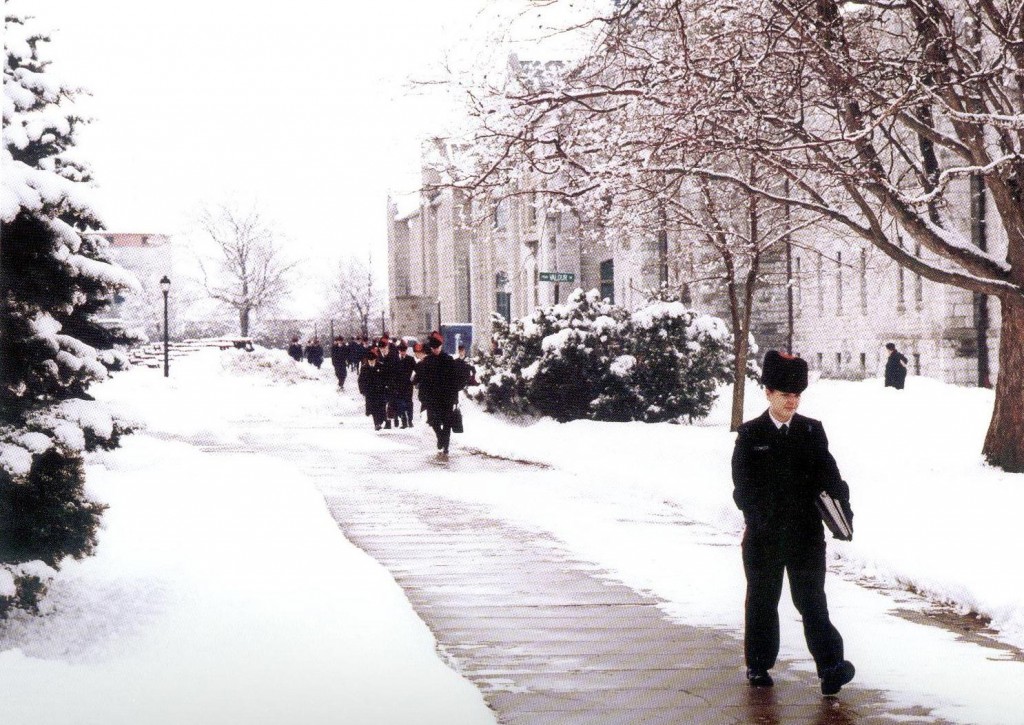 The Way it was in January 1998