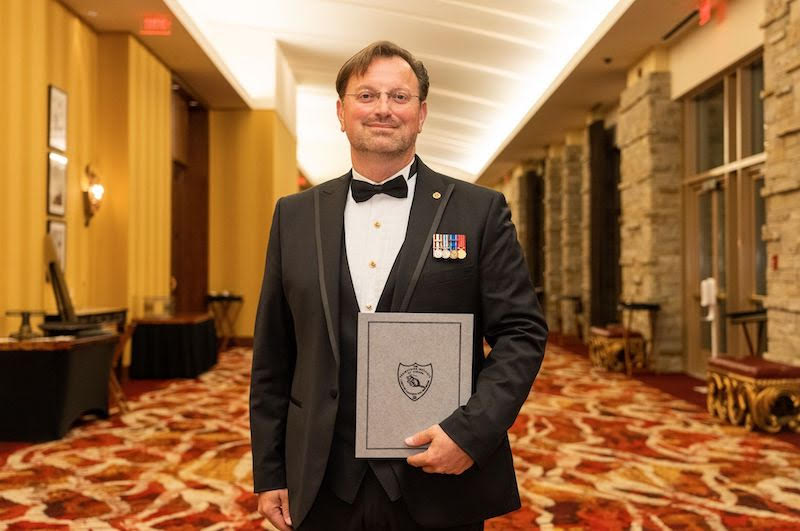 Professor Nicholas Vlachopoulos (Class of 1995 and College Number 19930) from the Civil Engineering Department at RMC was inducted as a Fellow of the Engineering Institute of Canada at an awards gala that took place at the Hilton Lac-Leamy Hotel in Gatineau, Quebec on 22 April 2023.
This is an extremely prestigious honour bestowed on engineers in Canada as only 20 engineers a year (from across Canada and in all engineering disciplines) are recognized for "their excellence in engineering and their services to the profession and to society."
The Engineering Institute of Canada (EIC), founded in 1887, holds an annual awards gala whereby the highest distinctions made by the Institute are awarded to deserving members of its 14 constituent societies.  Dr. Vlachopoulos was nominated by the Canadian Geotechnical Society where he has been a member spanning three decades.  The EIC promotes strong continuing education standards, recognizes meritorious engineers, records Canadian engineering history, holds thematic conferences and provides a policy advisory voice through the Partnership Group for Science and Engineering (PAGSE) and the Canadian Engineering Leadership Forum.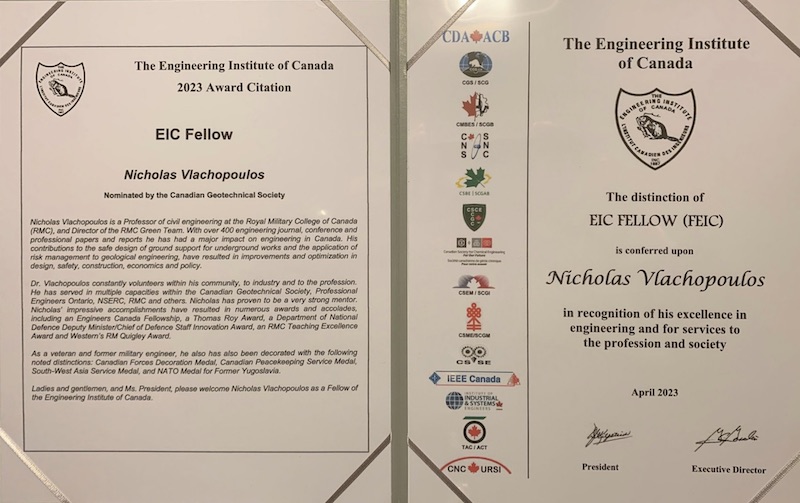 The citation for Dr. Vlachopoulos as a Fellow inductee of the EIC reads as follows:
"Nicholas Vlachopoulos is a Professor of Civil Engineering at the Royal Military College of Canada (RMC), and Director of the RMC Green Team. With over 400 engineering journal, conference and professional reports he has had a major impact in the way we engineer in Canada. His contributions with regards to the safe design of ground support for underground works and the application of risk management to geological engineering have resulted in improvements and optimization in design, safety, construction, economics and policy.
He constantly gives and volunteers within his community, to industry and to the profession. He has served in  multiple capacities within the Canadian Geotechnical Society, Professional Engineers Ontario, NSERC, RMC and others. Nicholas has proved to be a very strong mentor.
Nicholas' impressive accomplishments have resulted in numerous awards and accolades, including an Engineers Canada Fellowship, a Thomas Roy Award, a Department of National Defence Deputy Minister/Chief of Defence Staff Innovation Award, an RMC Teaching Excellence Award and an RM Quigley Award.  As a veteran and former military engineer, he also has also been decorated with the following noted distinctions: Canadian Forces Decoration Medal, Canadian Peacekeeping Service Medal, South-West Asia Service Medal, and NATO Medal for Former Yugoslavia."
This accolade speaks to the high-level of research and development, undergraduate and graduate teaching, and professional service that RMC professors contribute to within the institution, DND, CAF and society (Nationally and Internationally).  Their successes and efforts underline RMC's commitment to putting the very best of mentors in front of the cadets/students so that they may be exposed to this sort of excellence during their university studies at the College.