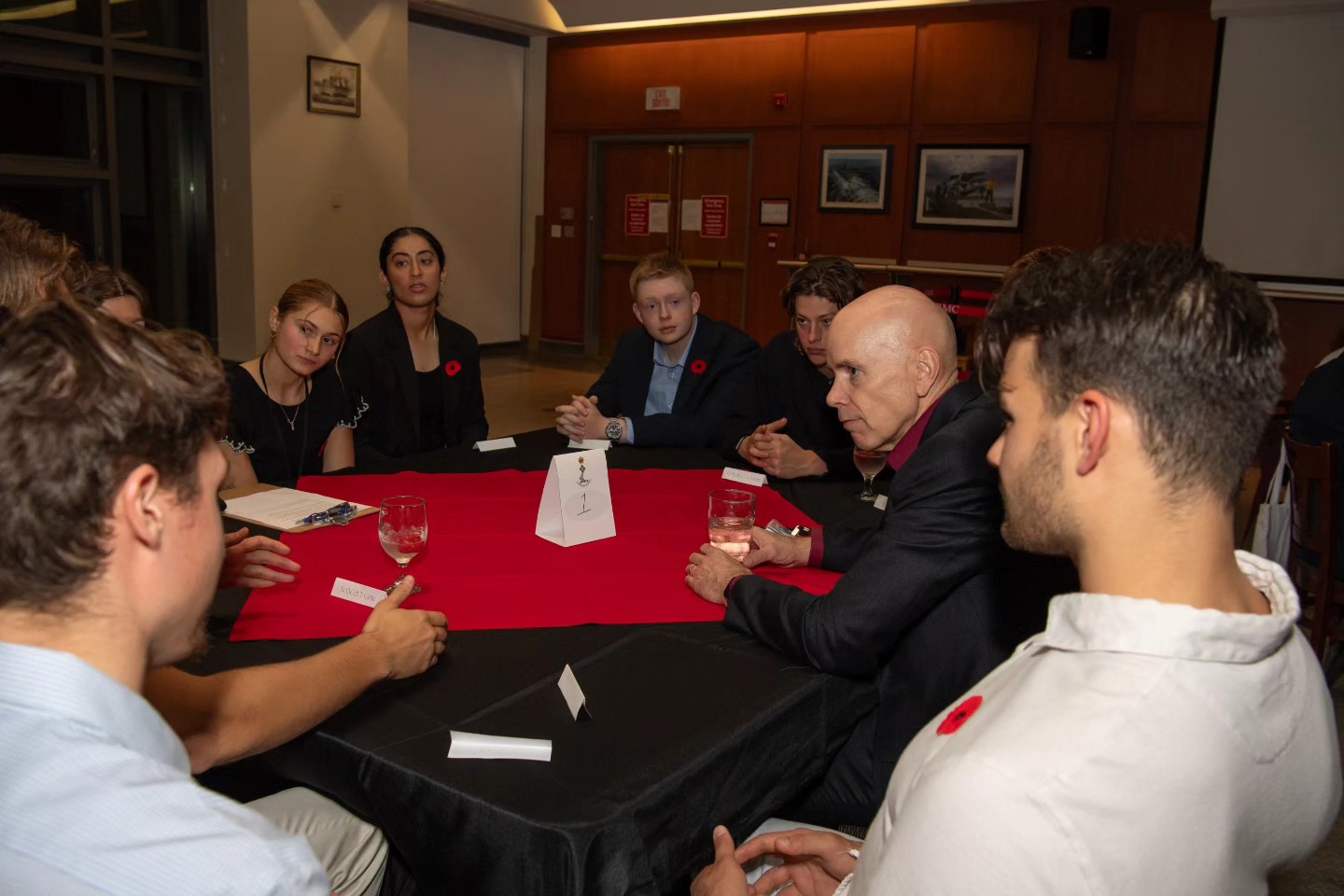 On 30 October, Naval and Officer Cadets met with great mentors and learned about resilience. It's important we help develop resilience in future #CAF leaders, so they can overcome adversity and be stronger, wiser because of it.
We are deeply grateful to the officer cadets, staff members, faculty members, and our 14 esteemed guests -many of whom have travelled great distances to be there with us- for your commitment and your tremendous support.
Bgén Godbout: votre leadership et votre soutien ont été essentiels pour faire de cette soirée un succès. Merci pour votre confiance!

Dr. Bates: Thank you for your unwavering commitment and invaluable guidance. Your direction has been instrumental in allowing us to make significant progress with our program over the last few months.

As we move forward, let us carry with us the knowledge that resilience is not just a concept or a skill; it is a way of life. It's a testament to our character and the values we hold dear. We are not simply resilient; we are Antifragile, growing stronger in the face of adversity.
May we continue to build a future marked by Truth, Duty, and Valour. – Dr. Loba Cherif
---
Le 30 octobredes aspm/élof ont appris ce qu'est la résilience auprès d'une excellente équipe de mentorat. Il importe d'aider les leaders des #FAC du futur à acquérir la résilience nécessaire pour faire face à l'adversité et gagner en force et en sagesse.
Photos: S1 Lisa Anne Sheppard and Avr Daniel Bartchouk
L'équipe Résilience Plus est profondément reconnaissante envers les élèves-officiers, les membres du personnel, les membres du corps professoral et nos 14 invités de marque – dont beaucoup ont parcouru de longues distances pour être avec nous – pour votre engagement et votre énorme soutien.
Bgén Godbout : votre leadership et votre soutien ont été essentiels pour faire de cette soirée un succès. Merci pour votre confiance !

Dr. Bates : Merci pour votre engagement et vos précieux conseils. Votre direction a été essentielle pour nous permettre de réaliser des progrès significatifs au cours des derniers mois.

Nous sommes également profondément reconnaissants envers l'Association des anciens du Collège militaire royal inc. pour son soutien continu !

Alors que nous avançons, gardons avec nous la connaissance que la résilience n'est pas seulement un concept ou une compétence ; c'est un mode de vie. C'est un témoignage de notre caractère et des valeurs qui nous sont chères. Nous ne sommes pas simplement résilients ; nous sommes Antifragiles, devenant plus forts face à l'adversité.
Puissions-nous continuer à bâtir un avenir marqué par la Vérité, le Devoir et la Vaillance.