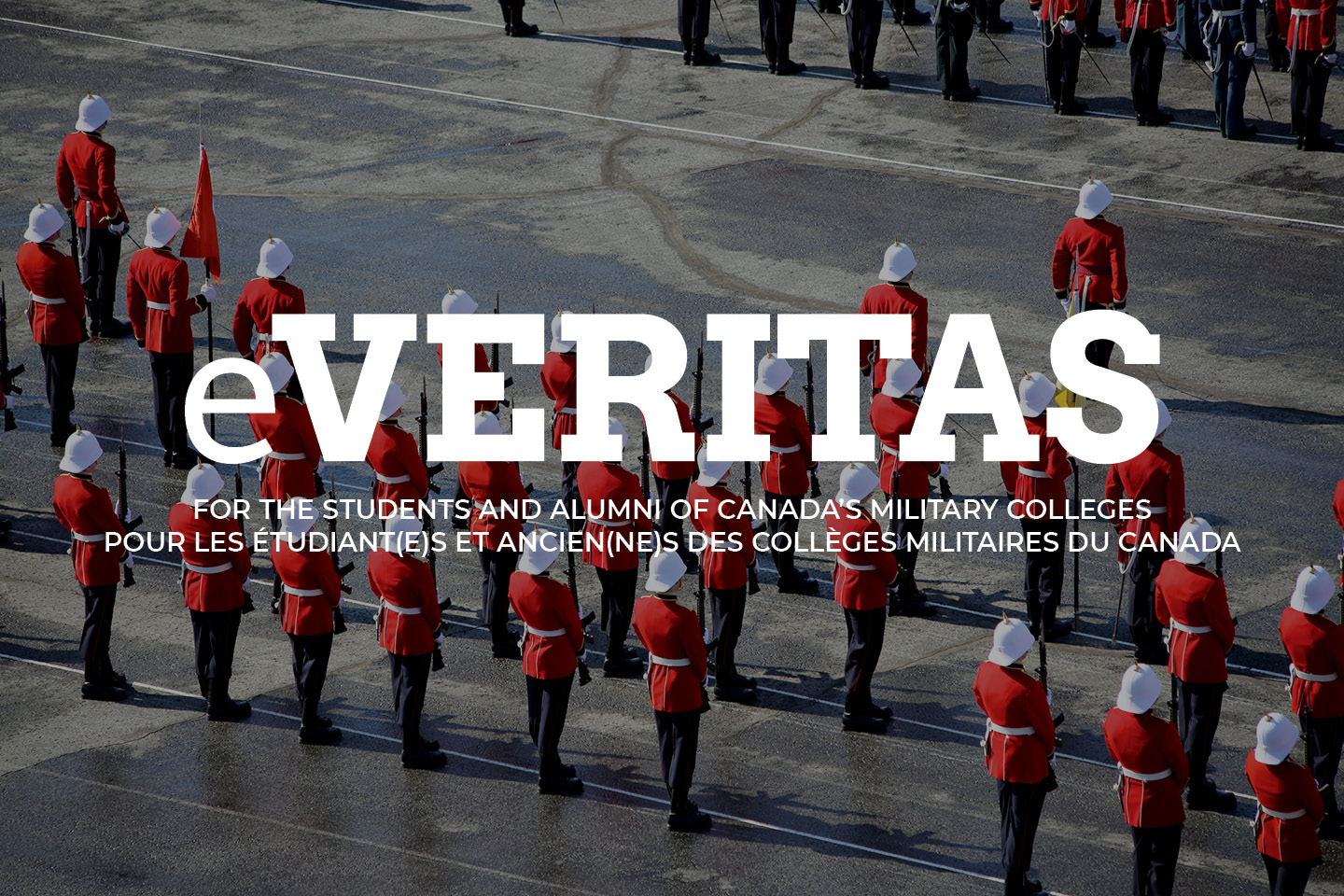 The next installment in our series of Ex cadets and other Canadian Military College graduates who have been recognized for going above and beyond the call of duty.
E3161 Victoria Edwards recently contacted 13846 LCol Kevin F. Bryski, a recipient of the Bronze Star Medal, Meritorious Service Medal, and member of the Order of Military Merit.
e-veritas: Where did your interest in the CF begin?
13846 LCol Kevin F. Bryski: I hail from a farm near Yorkton, Saskatchewan and my interests with the CF began in 17 Royal Canadian Air Cadet Squadron. In 1979, I enrolled in the CF and first qualified as a Combat Systems officer and served five years in the Navy prior to becoming a Communications and Electronics (Air) officer. In my formative years, I served as an instructor CFSCE, a staff officer at Communication Command HQ and as a project engineer in NDHQ.
e-veritas: You experimented with the "the Bryski shift theorem" while at RMC.
13846 LCol Kevin F. Bryski: In second year, I took a class on macro and micro economics – not in the engineering stream but a required class for those of us studying to become an engineer. Thus a few of us were truly disinterested in the "Arts" subjects. So, I skipped half the class on a regular basis. I guess, I thought I was smarter than the prof by attempting to skip class without him noticing. A bunch of us sat in the back row of a deep lecture hall in Girouard building, where the exit was right beside the end of row. As the prof turned his back to the class to write on the board, the guy closest to the door would leave the room. Then, the rest of us remaining (in the back row), would shift over one seat closer to the door until all of us had departed. I guess I was somewhat of the leader, so the manoeuvre was named "the Bryski shift theorem" which was a phrase created from a computer engineering term (shift register) and an economic theorem that included the term "risky" (Risky rhymes with Bryski)! In the end, we all failed the final exam and had to remain at the College for one extra week to write the supplemental exam – where we all passed and given a mark of 51%. Prof 1 – "Skippers" – 0. Lesson learned. The ironic thing is that economics is now interesting, as well as a number of other study areas outside of engineering.
e-veritas: What is your best memory from Military college?
13846 LCol Kevin F. Bryski: Graduation. The Class of 1983 is replete with super guys. We had a great time while it lasted, and I have made some good friends, but, getting out to the real word was something we all wanted. Our class has many accomplished leaders, both in and outside of the CF, and we remain close.
e-veritas: What was your main extracurricular activity while at the military college(s)?
13846 LCol Kevin F. Bryski: My main extracurricular activity while at military college was partying. I like to say that I mastered the "social" aspect, which was one of the RMC pillars at that time. As to formal activities, they were the Rifle Team and Varsity Football Team. I have Bachelor (79-83) and Master Degrees (87-89) in Engineering from the Royal Military College. I am a professional engineer (Ontario). I am also a graduate of the Command and Staff Course (05-6).
e-veritas: What have you been doing since you graduated?
13846 LCol Kevin F. Bryski: I have been in the CF ever since. I have served mostly in Kingston (twice at RMC) and Ottawa with four postings each location. I have also served in Toronto twice, Halifax, Esquimalt, HMCS Saskatchewan, Comox, Belgium, New Zealand and Kandahar.
I have been blessed to have had challenging and rewarding assignments. I have also been fortunate to have had the opportunity to command at the Captain, Major and LCol rank, including my present position as a Formation commander. We have very talented personnel in the CF and I am honoured and humbled to have served with them. The CF is an outstanding organization and we have a strong team.
e-veritas: Your command appointments span the team to formation level.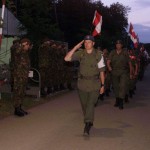 13846 LCol Kevin F. Bryski: I have been Commanding Officer of the Canadian Operational Support Command HQ in Ottawa and Canadian Forces Crypto Maintenance Unit in Kingston, ON. I was flight commander of 19 Wing Comox Telecommunication and Information Systems in Comox, BC, Detachment Commander of the annual exchange with New Zealand Defence Force in Auckland, NZ. I led the 19 Wing Nijmegen team, which won the Woodhouse Trophy for esprit de corps in 2000. Nijmegen is one of the best memories I have as it is a sterling example of teamwork. The Commander gave us right of line on the final day of the march and our team lead all 21 Canadian teams.
e-veritas: Given that you are an Air Force engineer, how did you come to be decorated with a US Army Bronze Star Medal (BSM)?
13846 LCol Kevin F. Bryski: In 2008, I was originally selected for the Strategic Advisory Team – Afghanistan. However, at the end of our training, the mission was terminated. The CF decided to deploy us to other missions. I was asked if I would be willing to accept a post outside of my realm. I saw this as a rare opportunity and a challenge. Given the importance of the Afghanistan operation to Canada and that I have always called myself "a company guy", I accepted. From August 2008-09, I deployed to Afghanistan with the US Army as the Chief of Staff, Afghan Regional Security Integration Command South in Kandahar, where I was responsible for integrating and synchronizing initiatives in the mentoring and development of 29,000 Afghan National Security Forces located in Helmand, Kandahar, Zabul and Uruzgan provinces. I also oversaw the civilian development and humanitarian assistance program. I especially remember my first trip of many outside the wire, when I went to open a new school in Shah Kalay village, near Kandahar. I still recall my senses and nerves on heightened alert as we drove over many culverts, which at that time were favourite spots where the Taliban would place IEDs. Being with the US Army, I was in an Up Armoured Humvee, which did not have a good track record for survival IED blasts (compared to the newer vehicles). Fortunately there was no incident and the school opening went smoothly. Overall, the tour was both challenging and rewarding.
e-veritas: The BSM is not the first foreign decoration you have?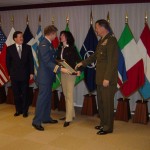 13846 LCol Kevin F. Bryski: True, I feel very humbled as there are very few of us in the CF that have multiple foreign awards. In 2004, I was decorated by NATO Secretary General Lord Robertson with the Meritorious Service Medal for my work in leading the initial operational test and evaluation of the NATO E-3A AWACS modernization program at Force Command, in Mons, Belgium. At $1.6 Billion, this was clearly NATO's largest C2 program and there were plenty of challenges to overcome as the system was not performing to meet operational requirements. As far as the MSM goes, it was the inaugural year for this decoration and I was the first CF air force officer to be selected. General Jones, SACEUR was at the small awards ceremony at SHAPE and he made a funny remark when I slightly deviated from the protocol of not shaking his hand prior to kissing my wife. He stated "I am not going to get in the middle of that", which made us all chuckle. In 2010, I joined the ranks with my late uncle Water (Para Rescue Tech), several other RMC class mates and the esteemed Bill Oliver when I was invested into the Order of Military Merit.
e-veritas: What are you up to these days? Outline your extracurricular activities.
13846 LCol Kevin F. Bryski: I am presently Commander, 76 Communication Group in Ottawa and given the scope of my responsibilities of leading approx 400 military and civilian personnel in providing national command and control information and intelligence systems support to the CF, my job occupies much of my time. I am also Class Secretary of the Class of 1983. In the past, I volunteered heavily with CF clubs and national organizations for the sports of snowboarding and windsurfing, including chief instructor and chair of the training Committee for Windsurfing Canada, but, these days my focus in my family. I am blessed with a wonderful family and without their support, I could not have had such a rewarding career. I am married to Michelle Robichaud and we are proud parents of two teenagers, both fluently bilingual, good students and well grounded. I enjoy an active lifestyle with my family and despite the onset of stone-hand syndrome, still play hockey and snowboard. Michelle and I do lots of sports together such as golf, walking and cross country skiing in an effort to stay fit and connected.  kfbryski@yahoo.ca