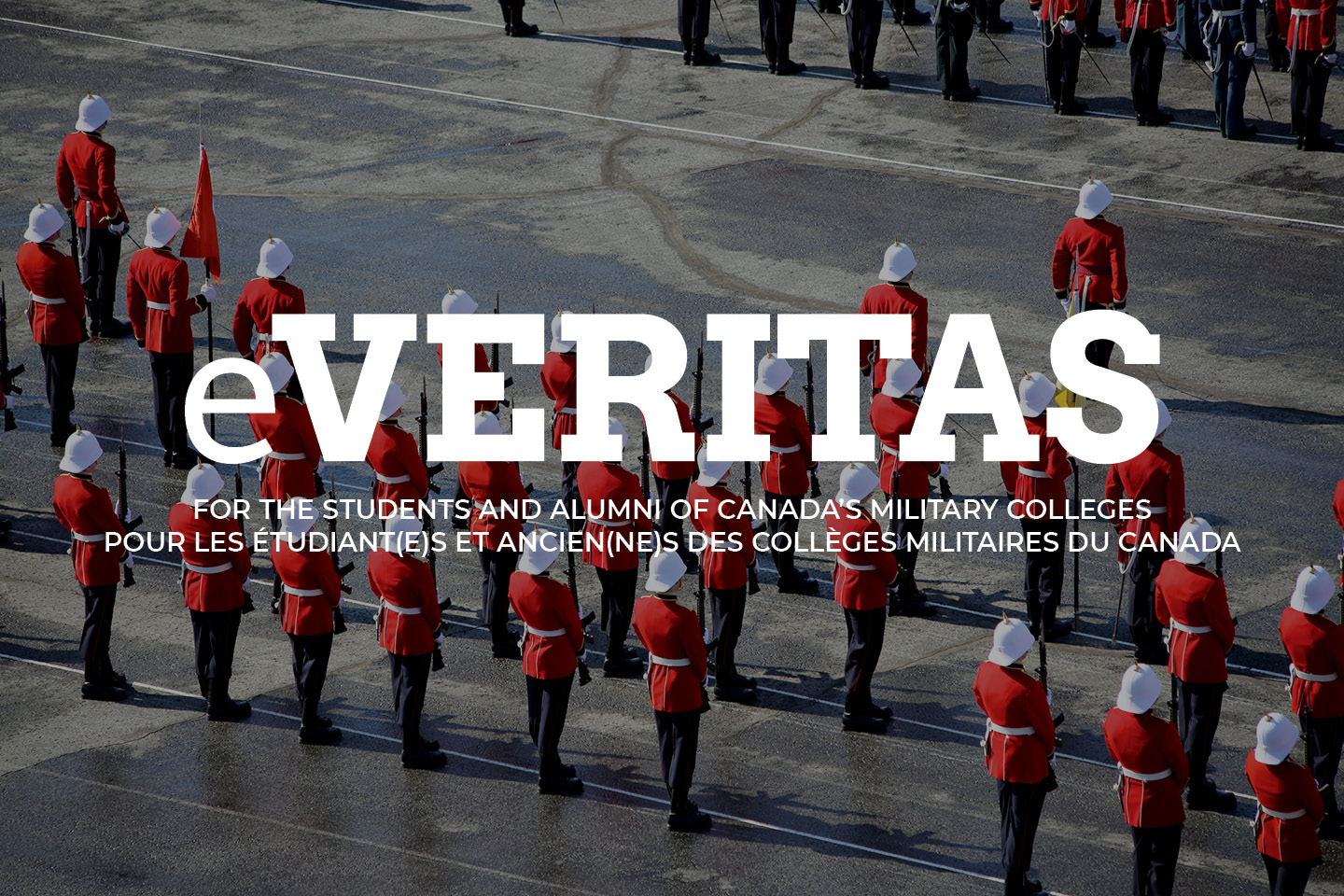 Congratulations to the Class of 2025 and welcome to the military college family! See below for our coverage of Reunion Weekend 2021!
(Please note that the Arch Memorial Service was a virtual event again this year. The video from the event will be included in eVeritas as soon as it is available.)
Félicitations à la promotion 2025 et bienvenue dans la famille des collèges militaires! Voir ci-dessous pour notre couverture du Fin de semaine des anciens 2021!
(Veuillez noter que la Marche vers l'Arc Commémoratif était à nouveau un événement virtuel cette année. La vidéo de l'événement sera incluse dans eVeritas dès qu'elle sera disponible.)
---
ISSN 2562-5071
In This Issue 15 / Dans ce numéro 15

Table of Contents / Table des matière
RMC Club and RMC Foundation Merger Information – Information sur la fusion du Club des CMR et de la Fondation des CMR
What can Canadian Military College Alumni do to promote Reconciliation with Indigenous People?
"Unleash it all" – Class of 2025 Proves COVID Restrictions Can't Stop Them on Obstacle Course /  "Donnez tout" – La classe de 2025 prouve que les restrictions liées à la COVID-19 ne peuvent pas les arrêter face à la course à obstacles
"This is only the beginning" – Class of 2025 Officially Joins the Wing / « Ce n'est que le début » – La promotion de 2025 rejoint officiellement l'escadre
Les élofs et les aspms donnent tout sur la course à obstacles du CMR Saint-Jean / Cadets Give Their All on RMC Saint-Jean Obstacle Course
Les élofs et les aspms marquent la fin du POPA au CMR Saint-Jean avec la cérémonie de remise des insignes/ Cadets Mark End of FYOP at RMC Saint-Jean with Badging Ceremony
Alumni Making the News / Des anciens font l'actualité
Dear RMC Diary: 15566 Helga Rausch Remembers Rook Term
10970 Karmin McKay: "Generals, RSM's and Troopers are people just like you"
12570 Mike Kennedy Reviews "Hal Moore on Leadership" by LGen Harold G. Moore and Mike Guardia
Keeping Tabs / Gardez un œil sur eux
Golden Oldies / Photos d'antan
The Class of '79 Remembers: Yeates Runs a Circle
We Get Emails: Some 'Vintage' Photos of the 1956 Prep Year Entry Class at CMR
Class of 2025 begins academic year with new "4-Pillar Degree" programmes / La promotion 2025 commence l'année académique avec de nouveaux programmes de "Diplôme à 4 piliers"
Ask the Expert: Dealing with my COVID "19" / Des conseils d'expert : Composer avec la « COVID-19 livres » 
Dr. Alan Whitehorn: Renaming History
From 12570 Mike Kennedy: RMC – Forty Years On (Part 3)
A170 Tom Rozman: Leadership Do's & Don'ts from a Battalion Perspective