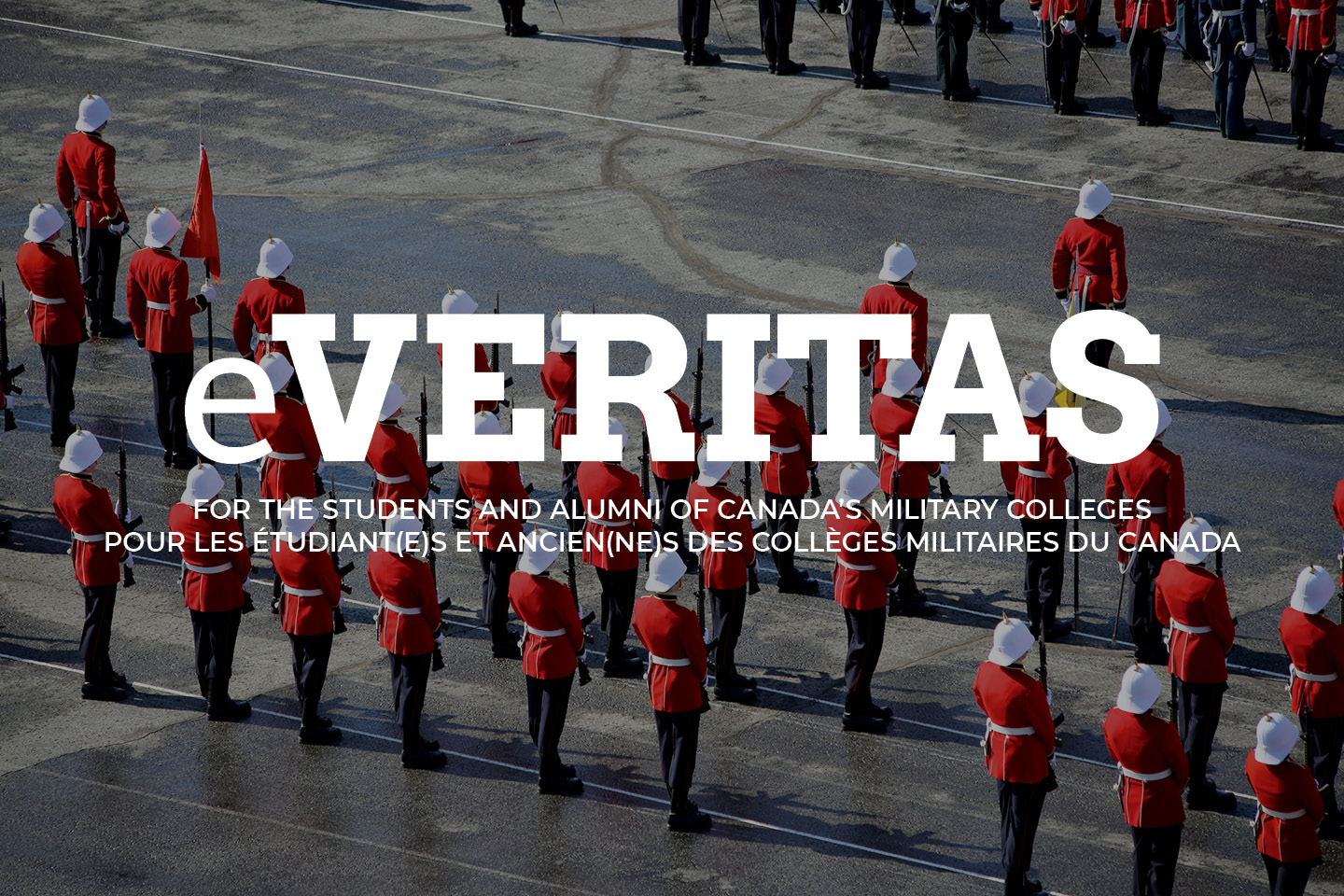 Editor's Note: In light of the Ontario stay at home order, the RMC Club Gift Shop is closed but will remain open for online orders. You can order through the Gift Shop site at https://store.rmcclub.ca/ or email either mary.darlington@rmc.ca or anna-michelle.shewfelt@rmc.ca. 
Note de l'éditrice: En raison de la commande au domicile en Ontario, la boutique de cadeaux du RMC Club reste fermée mais restera ouverte pour les commandes en ligne. Vous pouvez commander sur le site de la boutique de cadeaux à https://store.rmcclub.ca/ ou par courriel à mary.darlington@rmc.ca ou à anna-michelle.shewfelt@rmc.ca.
---
Please note that the publication of eVeritas Issue 10/2021 has been delayed for one week to accommodate RMC's 2021 Graduation events and will now be published on May 25, 2021. Thank you. 
Veuillez noter que la publication d'eVeritas Numéro 10/2021 a été retardée d'une semaine pour tenir compte des événements de remise des diplômes du CMR 2021 et sera désormais publiée le 25 mai 2021. Merci.
---
ISSN 2562-5071
In This Issue 9 / Dans ce numéro 9

Table of Contents / Table des matière
BREAKING NEWS: G3841 Commodore Josée Kurtz Announced as Next Commandant of RMC / DERNIÈRES NOUVELLES: G3841 Le Commodore Josée Kurtz annoncé comme prochain commandant du CMR
Alumni Making the News / Des anciens font l'actualité
Marquez vos calendriers pour la convocation et la parade de fin d'année du CMR Saint-Jean / Mark Your Calendars for RMC Saint-Jean's Convocation & End of Year Parade
RMC Community Remembers Fallen Crew of STALKER-22 / La communauté du CMR se souvient d'équipage de STALKER-22
Give your graduate the gift that lasts a lifetime! / Offrez un cadeau pour souligner la réussite de votre diplômé(e)!
RÉSILIENCE PLUS BÂTIR LA RÉSILIENCE, PAVER LA VOIE AU SUCCÈS, PROMOUVOIR L'EXCELLENCE / RESILIENCE PLUS BUILDING RESILIENCE, DRIVING SUCCESS, PROMOTING EXCELLENCE
10966 MICHEL MAISONNEUVE: MEMORIES OF RMC – SOUVENIRS DU CMR PART 10 / PARTIE 10
10970 Karmin McKay: Reflections on the Importance of Respecting the Rank
12570 Mike Kennedy Reviews "A Time Such as There Never Was Before" by Alan Bowker
Keeping Tabs / Gardez un œil sur eux
6560 Andrew Nellestyn's Food For Thought: It is the unknown which drives civilization forward
No. 758 BRIGADIER SIR EDWARD OLIVER WHEELER,  MC, Ld H(Fr), RE – A life of courage, professionalism and service
Class of '79 Remembers: N Flight – When Circles are Just Not Enough
We Get Emails: 5045 Ralph Awrey Tackles COVID Boredom
Rencontrez les élèves-officiers diplômés du programme d'études internationales au CMR Saint-Jean (Partie 2) / Meet the Graduating Officer Cadets of the International Studies Program at RMC Saint-Jean (Part 2)
What's Happening At RMC / Qu'est-ce qui se passe au CMR
A170 Tom Rozman: Operating with the Headquarters and Combat Trains—Leadership in the Operations of the Tactical Operations Center and the Combat Trains
In Case You Missed It / Si vous avez raté
TOURNOI DE GOLF REPORTÉ / GOLF TOURNAMENT POSTPONED
Memorial Fund for Fallen Ex Cadets
TD Insurance Customer Relief: Helping Canadians Impacted by COVID-19